If you'd like to get into the engineering space as a mechanical engineering student, this article is for you. We've assembled the best laptops for mechanical engineering students list, which might be useful in choosing the right system for classwork tasks. Personally, my background has nothing to do with engineering, but my elder and younger brothers went through university to study mechanical engineers. So at times, I suppose I count their experience in the field as mine.
Even with my business experience (Bachelor in Commerce – Finance), I did have some interest in power producing machines, electric generators, combustion engines, steam and gas turbines and the like. I still often open the refrigerator and air-conditioning system in attempts to figure out how they work. Why you might ask, well, because engineering is interesting. But I digress. My point is, if your main interest is someday becoming an Aerospace engineer, Automotive engineer, or a CAD technician, you need a laptop to take you through campus and graduate school.
Since you're going to encounter more than a dozen software in your engineering studies, you'll need a laptop that can handle all that math and formulae. In engineering, you could simply be dealing with programs such as Computer Aided Design (CAD), MathCad, Finite Element Analysis (FEA) Software, Microsoft Excel, Visual Basic for Applications (VBA), MATLAB and everything in between. You're probably going to also learn a few programming languages like Python, C++, Circuit Simulators (SPIC) among others. So just form the list, you can tell you'll need a powerful laptop to handle all that.
What're the most important things to keep in mind?
1. Portability
Since you'll be hauling this laptop every day, commuting with it from home or dorm to class, you don't want a back-breaking brick on your backpack. That means, the lighter you can find it, the better. Under this category, make sure the laptop doesn't sacrifice performance on the altar, just to get the weight right. Most manufacturers trim the battery in notebooks in order to make the laptops sleeker and lightweight.
Important Hardware to keep in mind
RAM
The more RAM you have, the better your laptop will handle multitasking workloads. I mean, it will be able to do more than a couple of things at the same time without being bogged down. All engineers should aim for 8GB RAM to ensure the laptop doesn't hang or lag. 16GB is even better if you can afford it and are planning to game with the laptop. It gives you comfort for the future. 32GB is more or less overkill for casual school work like web browsing and software. If you're not rendering video, editing photos, audio post production or gaming, you don't need that much memory.
What can 8GB do for you? If you're wondering, 8GB gives you plenty of breathing space for current and near-term future applications. Further, it should allow you to handle large documents, and do heavy multitasking in office productivity tasks, web browse on 30+ tabs open, media stream, photo editing on heavy 10+ photos and do some gaming. As far as engineering is concerned, I would recommend 8GB across civil, mechanical, and aeronautical engineering courses.
CPU
For engineers, Intel Core i5 is enough as it is capable of running 3D software easily without breaking a sweat.
Storage
Plenty of storage is great especially for backing up your data, files, media, video, and games. Most laptops come with a standard 1TB hard drive which is sufficient for bulk storage. However, if you can get an SSD, it will surely save you on speed. SSDs offer faster read/write speeds which translates to faster data retrieval, boot times and launching of software.
Display
Since you're going to be spending most of your time facing your laptop screen, be kind to yourself. Don't get anything below 13.3 inches. Also, while still on displays, avoid 4K display. They are pricey and drain your battery pretty fast. If you're on a student budget, the prices for 4K might force you not to either way (they'll cost you an arm). 1080P is the way to go for engineers.
Connectivity
Most laptops offer at least two USB 2.0s and two USB 3.0 ports. If you can find one with a futuristic port like USB Type-C, then that's a deal…go for it.
Weight
If you can afford it, keep the weight at around 3 pounds or less. This is another of the most crucial factors you have to keep an eye on. A lighter laptop will ease your commuting experience.
Top 10 laptops for Mechanical Engineering Students
Here's the list for the best mechanical engineering student laptops. I'll start the list with the most powerful and descend to the least. I'll also make a brief pros and cons list on each laptop so you know what you're getting in a nutshell.
The Microsft Surface 6 is the most well-balanced laptops for engineering students across the board. One of my favorite aspects about it is its lightweight stature, budget price and of course hardware. Yes, it packs an 8GB CPU, 256GB SSD and an 8th Gen Core i5 processor (1.3 GHz Core i5 8400T). Best of all, it can run any engineering software you throw at it. If you want a stronger or weaker option, you'll always find a configuration available. Either an m3 core processor with 4GB RAM or a late i7 late generation combined with 16GB RAM and 1TB SSD.
Design
Apart from being an engineering students platform, the Microsoft Surface 6 shines for being a light and portable 2-in-1 laptop. That alone makes it ideal for office work and streaming workloads. For that reason, you're more likely to find people carrying the hybrid to work both for its lightweight nature and long battery life.
Unlike other laptops in this list, the Surface Laptop 6 comes with a kickstand and keyboard dock that you'll have to connect to the display (keyboard sold separately). The keyboard dock connects to the display section using a magnetic strip that enables it to snag and lock. Moving on, the sides have an ample supply of ports. I won't list them all, but you d get a healthy supply of USB 3.0 ports, a mini DisplayPort port, and a microSD card reader along with the 3.5mm headphone jack and power supply connection. But best of all, there is a USB Type-C port and HDMI port.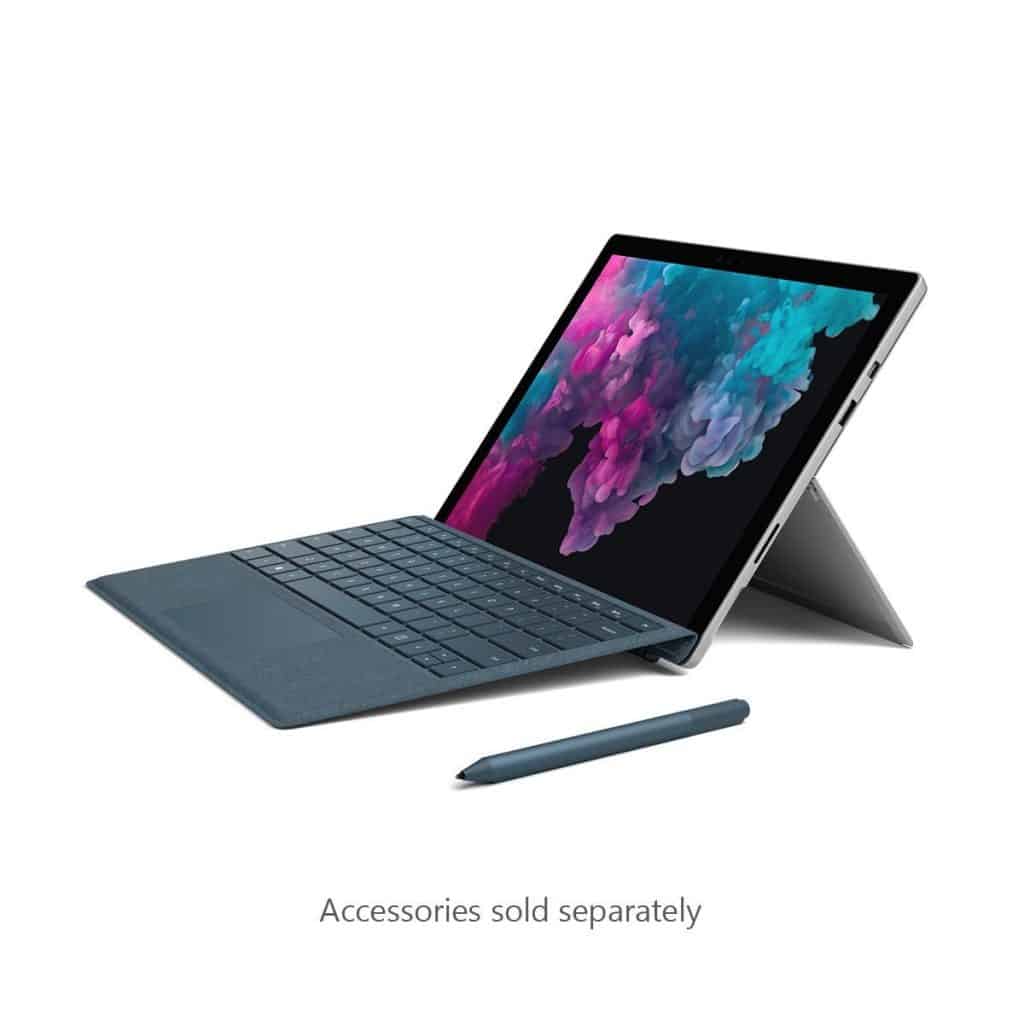 Display
On to the display, the 12.3 inches screen flaunts a 2736 x 1824 resolution screen and 267 brightness. That translates to crisp and clear images with no washed out images. But that's not the best part yet. The Surface laptop 6 comes with a Style pen that enables writing on the touchscreen. That means it can pretty much replace all of your school supplies including notebooks, textbooks, pens, erasers, highlighters, etc if you want.
On the flipside, one of the wrinkles the Surface Pro has is it does not come with a dedicated graphics card. That limits its performance on software such as CAD. Regardless, try going for the model with an i5 core processor and plenty of SSD. If you can find it (I know you will) for less than $1,000, then you've got yourself a deal.
Pros
Great screen
Long battery life
Solid performance
Lightweight, portable modest design
Cons
Can be expensive
Keyboard dock might be too small for some
I recommend the Surface Laptop 6 for Electrical, Computer, Chemical, and Software engineers as well. It should work pretty impressively for mechanical engineering students save for some 3D projects. Otherwise, if you're dealing with software such as *ANSYS, SolidWorks, Civil 3D, and Revit it should perform with aplomb. For the most part, Surface Pro 6 is more suitable for undergraduates.
Buy the the Surface Laptop 6 at Amazon
(Best Windows UltraBook for Mechanical Engineers)
If convertible laptops are not your style, the Dell XPS 15 is a pretty much one of the best Windows alternative you can go for. Ideally, you can go for a Dell XPS 13 as well, but because mechanical engineering students deal with large 3D CAD/CAE software, the laptop needs a graphics card. Therefore, the Dell XPS 15 (Dell XPS9570-5632SLV-PUS Laptop) fits the bill here. However, if you're an Electrical, Computer, Chemical, or Software Engineer reading this article, the Dell XPS 13 could serve you well too.
Design
The Dell XPS 15 offers impressive power and almost 12-hour battery but it shines for an attractive chassis and overall great design. With a drop-dead gorgeous aluminum case, slim layout, incredibly thin bezels, and sharp display, it's a premium laptop in the making. The laptop's well-rounded corners, soft-touch black interior, and sleek look make it ideal for the office and mechanical engineering students. It's slightly under-dressed for LAN parties, just in case you were wondering, but attractive nonetheless.
For the display, there are two types available: a touchscreen 4K resolution display and a Full HD (1080p). Because of the nature of work and assignments, we recommend sticking to the 1080p configuration we recommend here. It will go a long way in saving your battery. Other additional features I loved about the Dell XPS series is the fingerprint scanner and host of ports available. The laptop offers enough ports to connect to all your favorite devices.
Thankfully, despite the thin frame, Dell included a futuristic USB Type-C among other great things as Full-size HDMI 2.0 port. Other ports included are two USB 3.1 ports (one on either side of the chassis), Thunderbolt 3(for external video connections), an SD card slot and a 3.5mm jack.
In terms of size and weight, at 14.1 x 9.3 x 0.5-0.7 inches, the 4.2-pound XPS 15 is one of the slimmer notebooks in its class.
Performance
Before we get into performance, just like the Surface laptop, it can be configured depending on your budget.
This particular configuration under review comes with a 4.0 GHz 8th Gen i5-8300H processor, 8GB memory, 256GB SSD, Nvidia GeForce GTX 1050 and a Full HD (1920 x 1080) display. It sells for slightly shy of $1300.
The base model starts at $999 and drops the CPU down to a 2.3-GHz Intel Core i5-8300H chip with 8GB of RAM, a 1TB 5,400-rpm hard drive, an Intel UHD Graphics 630 GPU and a 1920 x 1080 display.
You can also opt for a 4K screen, but be ready to squeeze out at least $2,0099. We wouldn't recommend it, however, for its price considering this list is meant for students also for the fact that it would eat into the laptop's battery life. The 4K configuration gets you a 3840 x 1260 touch screen, 32GB of RAM, and 1TB M.2 PCIe SSD.
Overall, the Dell XPS 15 packs enough punch for mechanical engineering duty. It can run more than 15 tabs open on Google Chrome while handling most office and home tasks with flair. The hardware inside allows it to run most programs like CAD, MATLAB, and languages like Python and C++. It should also carry students through some online games and AAA titles with respectable frame rates. Gamers should be able to get decent frame rates on low-to-medium settings.
Pros
Simple design
Impressive performance
Almost-perfect display
Affordable price
Excellent battery life
Cons
Bottom line, the Dell XPS 15 is a phenomenal laptop comparable only to Apple's MacBook Pro. It is one of the only laptops in this list with an over $1000 price tag (but you can also get its base model for $999) but I would say it's totally worth it and has an attractive design to match. It passes the bar as a good business laptop but we also recommend it as a high-end mechanical engineering option with a great balance of performance, portability, and functionality
Buy the Dell XPS 15 at Amazon
Best MacBook for Mechanical Engineering Students
The MacBook Pro is the most prestigious MacBook you can have and certainly one with a great balance of features. It brags of a remarkably sleek design, 13.3 inch IPS panel screen, 2560 x1600 native resolution with 227 nits of brightness display, a healthy port system including two Thunderbolt 3 (USB Type-C with support for charging), 1.6GHz Intel Core i5 processor and Intel UHD Graphics 617 graphics card. On top of that, the MacBook Pro a lightweight at 2.7 pounds so it won't break your back while lugging it to class every day.
Despite other websites bashing the MacBook Pro, it still isn't a bad choice for engineering students, more especially mechanical engineers. It's an awesome choice for Electrical, Chemical, software and computer engineers because these courses don't have as heavy software as mechanical. But it could also work for mechanical students, especially undergrad students using CAD for introductory courses.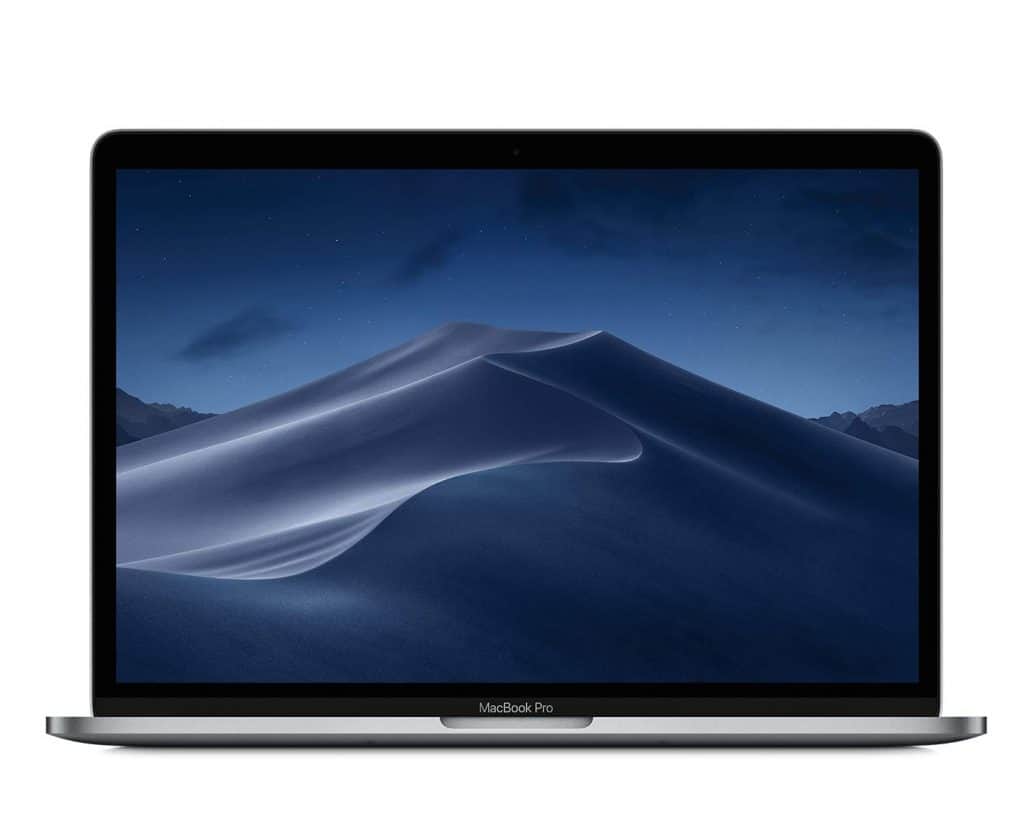 Also, there have been complaints and concerns about compatibility but it shouldn't stop you from buying it. Remember, you can always install a Windows OS if there are programs incompatible with the Mac OS.
Design
The MacBook Pro 13-inch has a design similar to its predecessor with a few tweaks here and there. If you've seen a 2016 or later version then you know about the aluminum design. The MacBook Pro 13-inch flaunts a touch ID button, Touch Bar, attractive silver or space gray design, thin bezel, and comfortable keyboard.
One of our favorite aspects of the MacBook Pro is its display. Like earlier mentioned the 13-inch display comes with a 2560 x 1600 pixel native resolution screen. Moreover, the True Tone technology makes all the difference and sets it apart from other laptops. Ideally, what it does is make the screen easier on your eyes by setting the display such that it matches the color temperature of the room. As a result, it becomes easier to handle Google Docs, spreadsheets and other reading material.
Unlike most laptops, it won't break you back. It has a smaller footprint and lighter weight at 3.02 pounds and 12 x 8.4 x 0.6 inches. The Dell XPS 13 is a bit more compact at 12 x 7.9 x 0.46 inches and significantly lighter at 2.65 pounds.
Performance
As far as performance goes, MacBooks have curved out there paths as powerful laptops leading the pack. The MacBook Pro also takes up the mantle with remarkable performance generally because of owning the fastest SSDs ever seen in a laptop. Like all other MacBook, the SSD is PCIe-based SSD. One advantage of this is you can easily install and boot Windows to run all the other programs not available on the MacBook.
With its 8th Gen, dual-core processor, 8GB memory, and 128GB SSD storage the system should be enough for most daily productivity tasks, and engineering applications. For the most part, 8GB is modest and considered the baseline in memory space. If you want to do more multitasking, upgrading to a 16GB memory would be a great idea, if you can afford it. Don't worry if you can't. The 8GB should work pretty well without any noticeable struggle or lag.
In real life performance, you shouldn't have any trouble engaging 20 open tabs in your Chrome web browser. The laptop also handles transcoding a 4K video to 1080p without much struggle. Moving on, since SolidWorks, CATIA, ANSYS, Revit, Civil 3D are not available on a Mac, it would be wise to install a Windows OS to enable dual booting.
Available configurations
I opted not to delve into the configurations available here, but it's easy to notice just how pricey the 15-inch Apple MacBook Pro lineup is.
Pros
Sleek attractive design
Blazing overall performance
Fast SSDs
Comfortable keyboard
Hey Siri support
Retina display with True Tone
Remarkable speakers
Cons
Graphics performance is wanting
Lacks full-size USB or SD card
Pricey
To sum it all up, the 2018 Apple MacBook Pro with Touch Bar is a solid laptop for engineering students as well as business users and professionals. It fits the bill for creative professionals, power users who demand powerful and lightweight laptops. It offers enough speed to cater for mechanical engineering tasks, quiet keyboard, respectable battery life, sleek and light design among others. Generally, if you're a Mac lover, the MacBook Pro 13-inch is a great powerhouse to rely on.
Buy the 2018 MacBook Pro 13-inch at Amazon
The Lenovo Y700 makes it to this list, first of all, for being a budget (under $1000) laptop, balanced features and performance perks. Mechanical engineers can rely on the Lenovo Y700 for running heavy programs and also some gaming. It also packs a handsome chassis, brightly lit display, and impressive performance. Inside it sports a 2.6-GHz Intel Core i7-6700 CPU, 16GB of RAM and an Nvidia GeForce GTX 960 GPU.
Design
The build quality of the Lenovo Y700 reflects a sturdy laptop that doesn't feel cheap. The case is made of black polished aluminum with a cross-hatch pattern on the back. Opening the lid reveals a black keyboard deck with soft-touch finish. The speakers are located on the top deck and are visible thanks to two thick aluminum speaker grilles on either side of the hinges. The keyboard's red accents and the decks' black contrast create a gaming theme. If you're into the black-and-red motif, you'll love the Y700.
Lenovo improved on the Y700's display after the previous Y series laptop was dinged for a lackluster display. This unit comes with a 15.6-inch 1080P display with 263 nits of brightness which is more than the 244 nits mainstream average. The brightness brings to life darkly lit movie scenes making them vibrant. It should also make it easy to use when doing 3D models.
In terms of weight, the Y700 weighs 5.7 pounds (15.2 x 10.9 x 1-inch) which is slightly lighter than the Dell Inspiron 15 7000 (5.9 pounds, 15.1 x 10.4 x 1 inch). Ideally, this laptop is lighter than some gaming rigs we've come across, case in point the Alienware 15 (12.01 x 15.32 x 1 inch, 7.69 pounds), but is heavier than the Microsoft Surface 6 and Dell XPS 15 (4.2 pounds). You will have to get a sizeable laptop bag to haul this laptop around and it might take a bit of getting used to.
Available Configuration
Just like the other laptops, Lenovo also offers a selection of configuration options. Our unit comes with a 2.6-GHz Intel Core i7-6700HQ processor with 16GB of RAM; a 1TB, 5,400-rpm hard drive with a 256GB SSD; an Intel HD Graphics 530 GPU; and an Nvidia GeForce GTX 960M GPU with 4GB of VRAM. (Lenovo Y700 80NV00W4US)
You can also opt for the NEW Lenovo Legion Y7000 option (for $799.99) with an Intel Quad Core i5-8300H processor (2.3GHz up to 4GHz), 16GB DDR4 memory, 256GB PCIe SSD, and GeForce GTX 1050Ti Graphics card. This configuration should work past 3D programs without breaking a sweat.
Meanwhile, the base model has a 2.3-GHz Intel Core i5-6300HQ CPU; 8GB of RAM; a 500GB, 5,400-rpm hard drive; an Intel HD Graphics 530 GPU; and an Nvidia GeForce GTX 960M GPU with 2GB of VRAM.
Real life performance
In real scenarios, the Lenovo Y700 gets its performance charm from its Nvidia GeForce GTX 960M GPU with 4GB VRAM. That means it should be capable of playing the most recent titles at highest settings. The notebook can hold its own in games delivering more than the playability-threshold. It also can easily handle up to 12 open tabs open on Chrome browser while playing some audio on the JBL speakers. Thanks to the graphics card, there should be fewer bugs and glitches when working with large/ complex projects.
Pros
Strong dependable performance
Attractive starting price
Great audio
Modern attractive chassis
Cons
Below average battery life
Keyboard gets hot when gaming
If you long for a budget system that can handle its own weight in productivity tasks, mechanical engineering projects, and gaming, the Lenovo Y700 is a good choice. While the laptop comes with a few foibles like below average battery life (3-4 hours) and a warm keyboard, it offers more than a few advantages. It flaunts the performance of a great mid-range laptop and won't put your wallet in traction which makes it highly recommendable to entry-level gamers and even mechanical engineering students.
Buy the Lenovo Y700 at Amazon