Many people would think that having a laptop with a keyboard and a text processor such as Microsoft Word would be enough to make it one of the best laptops for writers. However, just like graphic designers and music producers have specific requirements for their computers, so do authors, journalists, and bloggers.
The problem is that there are so many brands and laptop models out there that it might be challenging —and even a bit overwhelming— to choose the right one for you. You might find one with a good display, but with a small and noisy keyboard or short battery life. Then, you might come across another laptop that has a wonderful keyboard, but it's large and not portable at all. How do you choose which is best?
To help you in the quest of finding your perfect writing companion, we have compiled a list of the 7 best laptops for writers. We have considered the main features a writer needs in their device: a compact design, a comfortable keyboard, good performance, and long-lasting battery life. This way you can compare them and decide which is the best option for you.
1. Best Apple laptop for writers – Apple MacBook Air 13" (2020)
The newest MacBook Air with the M1 chip is the best-selling laptop on Amazon. It has even gained the status of "godlike" among writers, and it's not for nothing!
Thanks to the new M1 chip technology, this model is a powerhouse that features a battery that lasts for up to 18 hours from a single charge, which makes it one of the longest battery lives among all laptops. Impressive, isn't it? Wait until you hear the rest.
The Apple M1 chip together with the 8 CPU cores deliver up to 3.5x faster performance, so you can tackle multiple tasks without fear of the laptop slowing down. The 8 GPU cores increase the speed of graphic processing 5x so that you can enjoy some games and other apps in your downtime.
And let's not forget about the keyboard! The backlit feature together with the scissor mechanism of the keys makes this the perfect keyboard to write in low-light conditions and type as fast as you want without any key sounds bothering you.
Those keyboard features coupled with the new fanless design make for a quiet experience that allows you to concentrate better and work without distractions.
Pros
Long-lasting battery
Lightning-fast performance
Noiseless keyboard
Cons
Expensive (starting at $900 for the basic version)
In short, the Apple MacBook Air has it all: long battery life, excellent performance, and a top-of-the-line keyboard.
2. Best Windows laptops for writers
Below, you will find a list of the top windows laptops for writers. We have carefully weighed the pros and cons of each laptop along with the specs to come up with a list of the best windows laptops for this profession!
Surface Laptop 4 (2021)
If you're more of a Windows enthusiast, then you'll be happy to know that the Surface Laptop 4, which was just launched in April of this year, comes quite close to the MacBook Air in terms of portability, comfort, performance, and battery duration.
Weighing only 2.8 pounds and measuring only 12.1 x 8.8 x 0.6 inches, the Surface Laptop 4 is travel-friendly and the perfect companion for writers who like to carry their laptops with them everywhere.
With a screen of 13.5 inches and a 3:2 display ratio, this laptop offers more vertical space. This means less scrolling up and down websites or your document files when researching, reading, editing, and, of course, writing.
When it comes to the keyboard, the Surface Laptop 4 features a unique Alcantara lining around it. This soft material makes resting your wrists on the deck much more comfortable. This, combined with the nicely shaped keys, make for a fantastic and satisfying typing experience.
As regards performance, this model can tackle as many tasks as your typical workday requires without slowing or shutting down, all thanks to the 11th-gen Intel Core i7 and 16 GB of RAM. If you add to that a long-lasting battery that can work for up to 17 hours with a single charge, as Windows claims, you get a powerful, and solid laptop.
Pros
Travel-friendly
Comfortable keyboard
Long-lasting battery
Solid performance
Cons
Expensive (starting at $1000 for the basic version)
The Alcantara lining is a bit hard to keep clean
So, to summarize it, the new Surface Laptop 4 is portable, powerful, and long-lasting.
HP Spectre X360 15 (2020)
If you want to splurge on a new laptop and get one of the best laptops that run on Windows, we recommend that you check the HP Spectre X360 15 out.
This 2-in-1 device has a hinged multi-touch display of 15.6 inches, so you can rotate and use it as a tablet as well. This model has a BrightView glossy screen that's perfect for keeping colors sharp and vivid while working in a place with low light.
The downside to glossy screens is that they're highly reflective. If you're working somewhere with fixed direct light sources such as lamps or windows facing the screen, it will create reflections that could be distracting.
The keyboard is spacious and comfortable, very convenient for fast typing or when working for long periods of time. The backlit feature allows you to see the keys you're pressing on without worrying about light conditions.
When it comes to performance, the HP Spectre X360 15 can easily tackle your daily workload thanks to the powerful Intel 10th generation processor. An interesting characteristic of the processor is that it features Intel Turbo Boost technology. It increases energy efficiency when you're using a few programs and apps, and boosts the power when you need it to run more processes. And it does all of this intuitively, depending on what programs you're using.
To one-up that, the 16 GB DDR4 DRAM memory ensures faster speeds and higher efficiency, easily handling multiple tabs for research or content writing without lagging.
Once you know that the battery lasts for up to 17 hours with a single charge you'll see why this is one of the best laptops for writers. You can forget about your charger and work with ease knowing that you won't run out of battery.
Pros
Comfortable keyboard
Solid and fast performance
Energy efficiency
Long-lasting battery
Cons
Expensive (starting at $1300)
The glossy screen creates reflections that could be distracting
The HP Spectre X360 15 is an excellent choice because it offers everything a writer needs: a good keyboard, no lagging, and long-lasting battery life.
Dell XPS 15 (2020)
The Dell XPS 15 is an all-in-one device powerful enough not only to handle your daily writing tasks, but also any gaming you might want to do in your free time. Having owned a laptop from the XPS line (XPS 17) – we can safely say that this laptop is one of the best out there. The screen quality is superb, the trackpad is large and one of the best you can find on a laptop!
This laptop runs seamlessly and multitasks effortlessly thanks to its 10th-generation Intel Core processor and 16 GB of RAM. It can be configured with up to 32 GB of memory and a hard drive of up to 1 TB of storage, getting as close to a desktop computer as you could get with any other laptop. It can handle anything you throw at it, be it for work or leisure.
The 15.6-inch display features Eyesafe technology that filters harmful blue light without dampening the colors. It also has an anti-reflective coating that reduces the glare of the glossy screen when working under bright lights.
The keys and touchpad are larger than previous models for a better and more comfortable user experience. On the downside, this means that the laptop is also a bit heavier, weighing 4 lbs.
However, this is compensated by the incredibly long-lasting battery life of the newest Dell XPS 15. The company claims that the battery can last for up to 25 hours from a single charge when only using Word or Excel. Doesn't that sound amazing?
Pros
Fast and solid performance
Display that's easy on the eyes
Comfortable keyboard
Incredibly long-lasting battery
Cons
Expensive (starting at $1000)
The screen might be too large for some
The truth is that how long the battery lasts will depend heavily on how much you use the device and how you configure it. However, for your content creation tasks, you can still get a lot of juice out of this laptop.
3. Best budget laptops for writers
You might be just starting your writing career, or maybe you're still a student. Either way, we understand that the laptop models we've mentioned before are more on the expensive side, so here are a few more affordable options if you're on a budget.
ASUS Chromebook Flip
The ASUS Chromebook Flip is a 2-in-1 device that can be used as a tablet or as a laptop.
It features a small display of only 12.5 inches, but don't let its size fool you! This laptop is faster than other models of this size, and it's because of the Intel Core M5 processor and 4 GB of RAM. Even though it can easily meet your writing needs, you shouldn't demand too much from it because it can struggle with heavy multitasking.
Leaving that aside, what makes the ASUS Chromebook Flip a good option for writers is that it has a comfortable backlit keyboard, perfect for efficient and smooth typing.
It's also one of the most lightweight Chromebooks around, weighing only 2.65 lbs thanks to its aluminum metal body.
What seals the deal is its long battery life that can last up to 10 hours from a single charge.
Pros
Portable
Comfortable keyboard
Long-lasting battery
Affordable (just over $300)
Cons
Not much storage (64 GB)
Can't handle heavy multitasking
All of these facts plus the low price of just over $300 makes this one of the best laptops for writers on a budget!
Acer Chromebook 14
Another good alternative if you're on a budget is the Acer Chromebook 14, which features a 14-inch display that's specially built with an anti-glare coating for working in bright-light conditions.
The 4 GB RAM makes it a decently fast option for writers. You can easily have some open tabs on your browser while you're typing on your text processor and listening to some music. However, you might experience some lagging if you run more processes.
This laptop only has 64 GB of storage, but since it runs on Chrome OS, it includes 100 GB of cloud space.
Now, the moment of truth: battery life. Luckily, the Acer Chromebook 14 a long battery life that can give you a good 12 hours of work.
Pros
Decent performance
Long-lasting battery
Affordable (just over $300)
Cons
Not much storage (32 GB)
Can't handle heavy multitasking
It runs on Chrome OS
So, basically, this device can satisfy your basic writing needs as regards comfort, speed, and battery life for a very low price making it one of the best laptops for writers!
4. Best portable laptop for writers – Google Pixelbook Go
If you're the kind of writer who likes to bring your laptop everywhere you go, then this is the one for you.
The Google Pixelbook Go is one of the most portable laptops on the market. This thin and lightweight model is extremely travel-friendly because you can easily slide it into any bag. The no-slip grip design of the case allows you to carry it anywhere without worries of it slipping out of your hand.
The spacious, backlit keyboard with Hush Keys makes for an ultra-comfortable typing experience. You'll find the perfect combination of quiet and smooth typing, in any light conditions and without any distracting clicking noises.
If that still hasn't convinced you, wait until you hear about the Pixelbook Go's performance and battery.
The 8th Gen Intel processor (M3, i5, or i7, depending on the configuration you buy), together with the 8 or 16 GB of RAM make for a powerful and reliable device that can run all of your writing software smoothly and handle many browser tabs at the same time. The best part is that you can work on it for up to 12 hours from a single charge thanks to its long battery life.
The only downside to the Google Pixelbook Go laptop is that it runs Chrome OS, which relies heavily on Google services. This goes hand in hand with how little storage this device offers (up to 256 GB) because Google services include cloud storage.
Pros
Extremely portable
Comfortable keyboard
Reliable performance
Long-lasting battery
Affordable (base models start at under $700)
Cons
Runs Chrome OS
Not much storage
If you're already familiar with Chrome and Google Docs then you won't have to worry, this is the perfect laptop for you because it's travel-friendly, comfortable to type on, reliable, and fast.
Frequently Asked Questions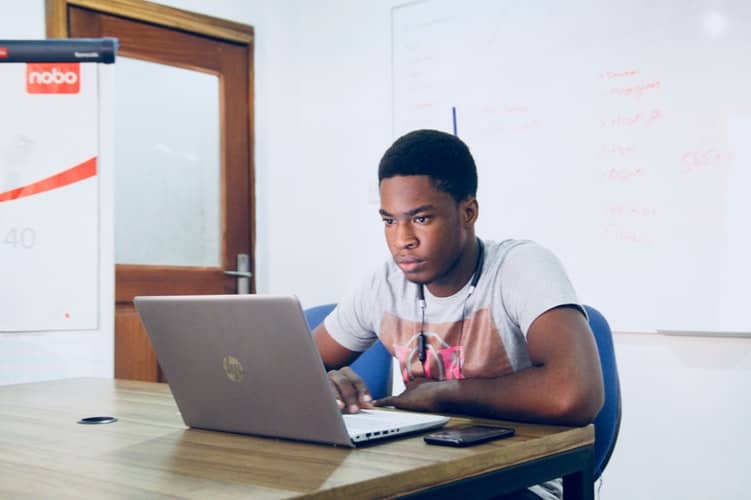 What features should I look for in a laptop for writers?
Here's a quick summary of the main features you need to look for when shopping for the best laptops for writers:
Keyboard: This is obviously the most important feature for a writer. You'll be typing for hours at a time, so comfort and quietness are key here. You need a comfortable and spacious keyboard that makes as little noise as possible. The backlit feature is also very useful because it allows you to write in low light. We suggest that you look for one that gives you the option to adjust the light's intensity because some are so bright that they end up being distracting.

Display: A 13 inches display is the perfect size: not too small to have an uncomfortable keyboard, but small enough to be portable.

Battery life: There's no worst thing than suddenly running out of battery right when you finally get that flash of inspiration you were waiting for. You definitely need long-lasting battery life to work without worrying about it dying, and the good news is that most models nowadays come with one.

RAM: 4 GB is enough if you use a text processor and have a few tabs open on your browser for research. 8 GB is better if you want your OS to run seamlessly while multitasking.

Weight: The perfect laptop for writers is small, thin, and lightweight. A portable device allows you to carry it everywhere with you and start typing wherever you are.
How much should I spend on a laptop for writing?
The answer to this question will depend on two things: your budget and what you'll use the laptop for.
With regards to the budget, we've given you both premium and budget-friendly options to choose from.
Now, if you're only going to be typing and creating document files, you don't need to splurge on a premium device. However, if you're a content creator that works with social media, web pages, and so on, you'll benefit from a more powerful laptop.
Conclusion
A suitable laptop for writers doesn't necessarily have heavy specs or top-of-the-line features. However, the best laptop for writers offers a combination of comfort, portability, solid performance, and long-lasting battery life so that you can efficiently create your pieces anywhere, anytime.
We brought you a list of 7 options to suit all kinds of laptop tastes and needs. Whether you're an Apple-lover or a Windows-fan, if you're on a budget, or if you're just looking for a highly portable device, you'll find one here.
If you're still unsure about which model to choose, you can take a look at the FAQ to help you decide which main features are more important to you and how much you should spend.