Best laptops for Microsoft Office 2020
In today's world, the ultimate everyday laptop is considered to be one that combines portability, performance, and good looks. But what is rarely mentioned in this list is the preloaded operating system within the laptop. Why might you ask? It's because it needs no introduction. Industry king ping Microsoft has made sure that Windows is such a compelling package that most users can't stay without. And the plan worked. Today, the industry-leading laptops and desktops use Windows operating systems and consequently, MS Office packages such as Word, Excel, Powerpoint, and a lot more others. Sure there is macOS and Chrome OS, but Microsoft has a massive chunk of the market share, and they're unapologetic about it.
Admittedly, MacOS and Chrome OS are high operating systems that have changed the face of OS over the past two decades. macOS for premium laptops and Chrome OS for inexpensive Chromebooks. However, our focus won't be on these. But instead Microsoft Office in Windows OS laptops and the best laptops for Microsoft Office.
It's for you if you're looking to ace any word processing job; crunching numbers, making budgets, and creating spreadsheets in Excel. Also, it's great for making powerful presentations using Powerpoint. We've listed up the best laptops that use these Microsoft office tools and flourish at their work. They all surpass the Official system requirements Guide that Microsoft issues so you don't have to worry about mediocre functionality. With that in mind, our list includes only the best laptops so some of them might be a bit pricey. To be fair, we've listed other affordable laptops that won't disappoint your high-power computing needs, that is, that is up to the challenge. Whether you just want a laptop to cater to the regular Word, Excel and PowerPoint apps or to get your subscription on Office 365 service, this list covers you.
Here are some of the best laptops for Microsoft Office
Nothing screams 'best laptop for Microsoft Office' more than a literal laptop from Microsoft. The Microsoft Surface Laptop 2 is the brainchild of Microsoft company. It is a thin, light, powerful and good looking general-use-notebook preloaded with Windows 10 S for students and of course a slew of apps under MS Office suite. Measuring 0.57 by 12.1 by 8.8 inches and weighing a feathery 2.75 pounds, the Surface Laptop is a sleek designed laptop made to be hauled around campus or high school. At its current weight, it's slightly heavier than the thinnest laptop LG Gram 14 (2.09) which should give you an estimate of just how small this laptop is.
Awesome Performance
Performance-wise, the display is both touchscreen and flaunts a higher than Full-HD (2256 x 1504) resolution, which is highly detailed for documents, photos, and video. The brightness is remarkable too and only comparable to the Razor Blade Stealth (2,256-by-1,504, or QHD). It's an all-rounder laptop with crisp, clear speakers, plenty of ports including USB-C port, Core i5 processor, 8GB memory, and 256GB solid-state drive (SSD). Generally, its performance is top-notch for an ultraportable and the outfitted battery highly dependable at 16 hours 44 minutes.
Now, the highlight of the Surface laptop is that it offers the best of both Windows OS and Ms. Office. Among the preloaded software is Office 365, a premium version of Microsoft Office that's paid for monthly. The Surface laptop comes with a limited offer of a one-year subscription to Office 365 and 1TB free online storage on OneDrive. Office 365 gives you full access to Microsoft Word, Excel PowerPoint, and OneNote.
Additionally, these apps get frequent updates and feature Microsoft get regularly. The bottom line, the Surface laptop, is built to make use of the best of Microsoft software. So if you need a computer that takes advantage of the effectiveness and positive aspect of Microsoft Office software and its subscription-based suites, the Surface laptop is a remarkable starting point.
| | |
| --- | --- |
| Display | 13.5 inches (2256 x 1504 pixels) |
| Processor | 1.6 GHz i7-3960X |
| Memory | 8GB LPSSR3 |
| Storage | 256GB SSD |
| Graphics Card | Intel UHD Graphics 620 |
| Measurements (LWH)/ Weight | 12.13 x 8.79 x 0.96 inches (2.76 pounds) |
2. Dell XPS 13 (9370) – (Best laptop for word documents and Internet)
The Microsoft Surface laptop 2 shines for its beauty and elegance. The Dell XPS 13, however, focuses on a good blend of performance and beauty. It ticks all the right boxes to fit as our performance-based option for the best laptops for Microsoft Office.
Performance aside, the Dell XPS 13 (9370) is an all-time favorite among consumers and has been so for a couple of years now. That's all due to a beautiful near borderless display, vibrant screen, healthy battery life, sleek, lightweight body, and cool running system.
At a mere 0.46 inches thick at its thickest point (0.3 inches at its thinnest) and 2.65 pounds heavy, the Dell XPS 13 makes its stand as one of the thinnest and almost lightest laptops. It shares a throne with some premium laptops like the HP Spectre 13; a svelte laptop measuring 0.41 inches. Every good thing comes at a cost and the price the Dell XPS 13 had to pay to be 0.46 inches slim was a healthy port system. There aren't as many ports but you will find two Thunderbolt 3 ports on the left side and on the right: a 3.5mm audio jack, a microSD card slot, and a USB Type-C port, which can output DisplayPort video.
Display and Performance
One of our favorite features is its display. There is a 3840 x 2160 (4K, Ultra HD) touch screen and a 1920 x 1080 non-touch screen configuration available. But both of them offer crisp image and video quality with the 4K option packing an awesome 415 nits brightness level and the Full HD configuration 372 nits.
In terms of performance, the Dell is a killer in every sense of the word. With the premium configuration of Core i7-8550U CPU, 16GB of RAM, a 1TB SSD and a 4K touch screen, it handles everything you throw at it with Like a beast. This option is a bit pricey, going as far as $1500 which might not be very affordable to every prospective buyer. For users looking for a more budget option, there is a configuration that sports a Full HD display.
Related: Best Laptops for Computer Science Students
| | |
| --- | --- |
| Display | 13.3" 4K Ultra HD (3840 x 2160) InfinityEdge Touch |
| Processor | Intel Core 8th Generation i7-8550U Processor |
| Memory | 16GB LPDDR3 |
| Storage | 512GB SSD PCIe |
| Graphics Card | Intel UHD Graphics 620 |
| Measurements | 18 x 12 x 3 inches/ 2.65 pounds |
Bottom line, the reason we recommend this laptop is surely for its 4K display and vibrant image quality. But its versatility doesn't end there. Thanks to a list of great components, it brags of speedy performance, portability, and aesthetics. It packs plenty of RAM (16GB) so the memory-intensive Windows OS doesn't struggle to run. That means, all your Ms. Office related tasks are done without a hiccup. Whether you're working on a Word document, Excel spreadsheet, PowerPoint apps or subscription-based Office 365 service, you can rest assured the XPS will handle it without breaking a sweat.
The Dell Inspiron 15 7000 (7567) takes a different angle. It's a perfect notebook for everyday life and an entry-level gaming laptop which means you can jump into gaming on Full HD settings. This is the first laptop in our 'best laptops for Microsoft Office' list that brings in the gaming aspect into perspective.
As a result of this one aspect, the Dell Inspiron 15 7567 isn't the thinnest or lightest of the pack. In fact, it doesn't even come close to the Surface laptop 2 or the Dell XPS 13 size. It measures 21 x 9 x 3 inches and weighs a whopping 6.61 pounds making it almost three times the weight and size. For the most part, that's all thanks to the extra weight the Nvidia GeForce GTX 1050 Ti graphics card brings and in part the large 15.6 inches size of the laptop.
On the bright side, the graphics card enables the laptop to handle recent gaming titles and handle graphics-intensive work. Meaning, you can easily get some photo editing and video editing work done. As far as Microsoft Office goes, it brings in massive editing power for Word processing, spreadsheets, and Powerpoint apps, working them like a charm. Thanks to the other components of the Dell Inspiron (8GB RAM, 256GB SSD, and Intel Core i5-7300HQ), this laptop has excellent multitasking and processing strength. This means you can have more than a couple of tabs open on your web browser, run multiple apps simultaneously, while all the while listening to music in the background. Because of the 256GB SSD, the laptop boots up in less than a minute and loads software pretty fast as well.
The only caveat that shows its ugly face is the dim display and poor viewing angles owing to the TN panel used. Well, it won't affect much of reading or writing, but viewing in brightly lit rooms or under direct sunlight might not be as clear. Dell should have considered a configuration with IPS display as well as one with USB Type-C port. Other than that, it is a great laptop with enough power to handle your MS. Office tasks.
Pros
Great system performance
Impressive entry-level gaming performance
Decent battery life
Temperature keeps low
Cons
Poor contrast
Poor display and viewing angles -TN panels
Slow SD card reader
Lacks USB0-C Thunderbolt port
All in all, the Dell Inspiron 15 7000 (7567) makes the cut as a laptop for Microsoft Office. It possesses the muscle to handle it and the configuration we've featured is decently priced for prospective budget buyers. If you're in the market for a good everyday laptop for home and office work and still desire it having the capacity to game, you won't get disappointed. The Inspiron has the both of these worlds squarely represented.
The Acer Aspire E 15 E5-576-392H ideally fits the bill and definition of a budget laptop. Its design is nothing close to thin and sleek like the laptops we've mentioned above. For the most part, it's big, heavy and bulky. The case is made of plastic but it has parts that may pass for metallic which gives it a deceivingly premium aesthetic. That's not an overwhelmingly bad thing because the laptop was made for the budget audience. By budget, it means made for users looking for performance and pricing over aesthetics which the Acer Aspire E 15 does perfectly.
In terms of size and weight, it measures 15 x 10.2 x 1.2 inches which is relatively larger than the Dell XPS 13 or Microsoft Surface 2. But that's the standard dimension for a budget clamshell laptop so it shouldn't worry you as much. Just know that it should fit perfectly into your bag.
The Acer Aspire E 15's display is a sharp non-touch display, but while it's decent, it doesn't strike one as colorful. It shows images in Full HD but noticeably doesn't make images pop especially if you've used other better displays. The display produces a max brightness of 227 nits which is on by most standards at par with other budget laptops. Since you'll be spending a lot of your time on your PC in Microsoft Office apps, it's wise having a reliable display and the Acer Aspire E 15 surely makes a modest statement.
Awesome performance
Moving on to performance, it is equipped with an 8th Gen Intel Core i3-8130U CPU, 6GB of RAM and a 1TB 5,200-RPM hard drive. As a result, it offers an impressive price-to-performance. The processor is capable of handling intensive tasks and the 6GB backs it up with multi-tasking capabilities. That means you can run more than a couple of tabs on your browser like playing 1080 YouTube videos while web browsing and following up on your favorite Twitch stream. To be particular, you can run a couple of Excel sheets, write an article on Ms. Word, edit a photo in Photoshop and prepare some Powerpoint presentation almost simultaneously. The RAM is capable of handling that with flair.
Finally, there are a few other components that caught our attention. For instance, the fact that the battery life stands at a record 8hours and 47 minutes meaning an all-day work battery. Also, the system runs cool, while on idle never topping our 95-degree Fahrenheit comfort threshold. If this configuration doesn't work for you, Dell has a couple of configurations available based on processor, memory, and storage. You can extend your budget a bit more for an option if your wallet allows it.
Pros
Simple but attractive design
Great starting price
An array of ports
Full HD display
Long battery life – 8hours
Affordable pricing
Cons
Bulky design
Poor webcam
Some bloatware available on purchase
| | |
| --- | --- |
| Display | 15.6 inches |
| Processor | 8th Gen Intel Core i3-8130U Processor (Up to 3.4GHz) |
| Memory | 6GB Dual Channel |
| Storage | 1 TB HDD |
| Graphics Card | None |
| Measurements/ weight | 15.02 x 10.2 x 1.19 inches/ 5.29 lbs |
The Acer Aspire E 15 E5-576-392H has a lot going on for it. Here's why it makes it to our best laptop for the Microsoft Office list. First, it flaunts of solid performance, long battery life and a healthy set of ports. Did I mention that it costs about $400. Yes, it's a budget laptop with all the perks of a premium performance laptop. There are a few shortcomings that we noticed like being bulky, but all in all, it surpasses the bar set for Microsoft Office laptops. Check it out on Amazon.
If you're looking for screen estate, the Asus Vivobook F510UA- AH55 fits the bill perfectly. It comes with a 15.6-inch display which is rare for budget laptops. Among its other highlights is its performance that qualifies it as a desktop replacement and yet thin and light body. It's the biggest drawback and one you'll have to contend with is short battery life. For the most part, the large display takes up most of its power granting it shorter than average battery life. But if you love plenty of screen and short battery life (6 hours 47 min) isn't such bad bottom line, the Asus Vivobook F510UA should make a fine companion.
On design, the Asus Vivobook F510UA turns more heads than the clamshell Acer Aspire E 15 E5-576-392H. That's all thanks to a sleek modern design with a unique gunmetal shade on its aluminum chassis. The inside is made of plastic and the enclosure is thin and fairly rigid. The Vivobook F510UA measures 0.8 by 14.2 by 9.6 inches (HWD), which places it between the Acer Aspire E 15 (1.2 by 15.0 by 10.2 inches) and the Dell Latitude 3490 (0.8 by 13.3 by 9.2 inches). Our unit measures 3.57 pounds which is lighter than the Acer Aspire E15 (5.27 pounds). Unlike the Aspire E15, it lacks an optical drive meaning it has no ability to read and write CDs and DVDs without the help of an external hard drive.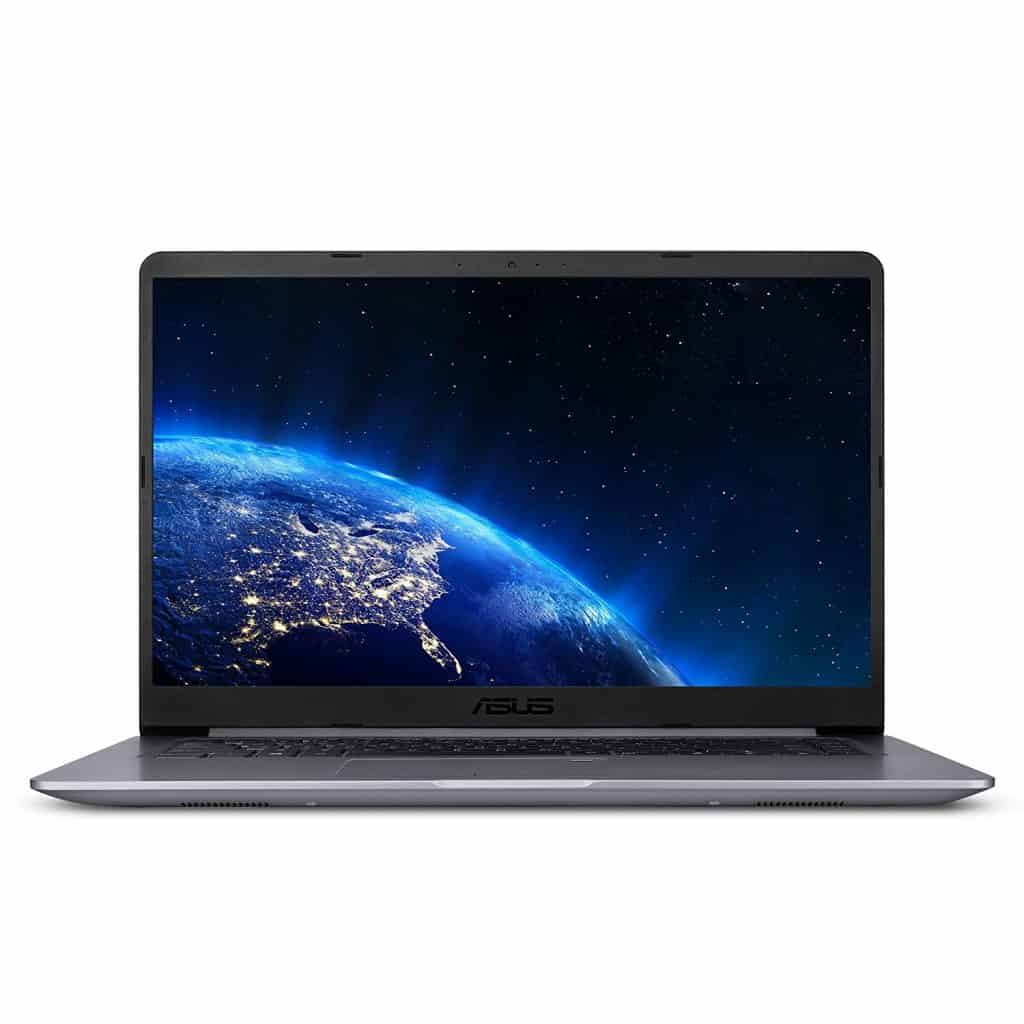 Inside the hood, you will find an Intel i5-8250U processor, 8GB RAM, and Intel HD 620 graphics. Thanks to the eighth-generation processor, the VivoBook AH51 is a beast and crunches the numbers well with a strong performance. You won't be able to game with this laptop especially on hardware-hungry titles like Witcher 3. However, the processor and RAM combined make more than enough power to handle Microsoft Office tasks and web browsing. Whether you're on Ms. Office or Adobe Photoshop, the system should run smoothly.
Pros
Low price
Great performance
Large screen to work with – 15.6 inches
Full HD display
Sleek and portable design
Cons
Mediocre battery
No SSD
Lacks touchscreen support
No backlit keyboard
| | |
| --- | --- |
| Display | 15.6 inch |
| Resolution | Full HD (1920x 1080) |
| Processor | Intel Core i5-8250U |
| Memory | 8GB RAM |
| Storage | 1TB HDD |
| Graphics Card | Intel HD Graphics 620 |
| Operating System | Windows 10 |
| Weight | 3.57 pounds |
| Measurements | 0.8 by 14.2 by 9.6 inches |
So should you buy the Asus Vivobook F510UA- AH55? The answer is yes. It's cheaper than most 15-inch laptops and packs a value feature set. Whether your computing needs are as basic as daily computing, Ms. Office or web browsing the VivoBook should handle it comfortably. You will enjoy the portability and remarkable design. Overall, it is a great laptop for college and work.
6. Lenovo IdeaPad 330 – Best Inexpensive laptop for Microsoft Office
The Lenovo Ideapad 330 sits among the very best great value and budget laptops of 2018 and 2019. While it does not sport the most premium features, it is an eye-catcher to budget users in the market for affordable 14, 15 and 17 -inch notebooks. We appreciate Lenovo including a host of options in configurations and maintaining the stylish design while at it.
Built from a polycarbonate body, the Lenovo Ideapad 330 looks quite premium. The screen lid is made of brushed metal and stretches out the entire 15.6 inches of it. This unit came in white but fortunately, you can buy other color options including Platinum Grey, Blizzard White, Midnight Blue, Chocolate and Onyx Black. At 6.61 pounds and 16.5 x 11.5 x 1 inches the Ideapad 330 is on the heavier side of the spectrum. It still will fit into a bag but the weight could be a little bit extra especially if you commute to school and work daily.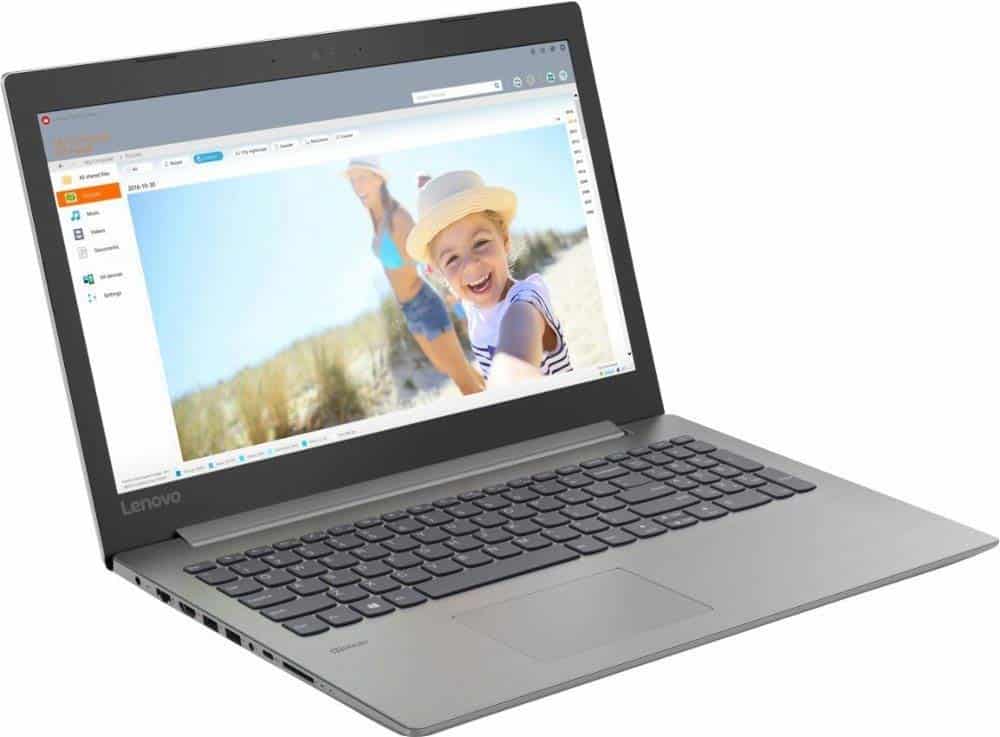 On performance cycles, the laptop performs quite well on a day to day apps and software. Our unit comes with an eighth-generation Intel Dual Core i3 – 8130U processor but there is a configuration with the latest eighth-generation Core i5 processor. It also packs an 8GB DDR4 RAM and 1TB HDD. There is no dedicated graphics card for this unit, only an Intel HD Graphics 620. Other configurations offer up to Nvidia GTX 1050Ti. The processor supports browsing on the web with multiple tabs open. One can also multitask six tabs of applications thanks to the strong processor performance and 8GB memory.
Pros
Simple decent design
Strong performance
Low starting price
Strong performance
USB Type-C port
Cons
| | |
| --- | --- |
| Display | 15.6 inches (1366 x 768) |
| Processor | 8th Gen Intel Dual-Core i3-8130U |
| Memory | 8GB DDR4 |
| Storage | 1TB HDD |
| Graphics Card | Intel UHD Graphics 620 |
| Measurements | 14.9 x 0.9 x 10.2 inches (4.85 pounds) |
There's no escaping it: the Lenovo Ideapad 330 with an Intel Core i3-8130U processor, 8GB DDR4 RAM, and 1TB HDD is a great machine for day to day tasks. It handles Windows and Microsoft Office tasks with flair. It won't handle gaming or graphics-intensive tasks, you will need a graphics card for that. Or else, opting for a dedicated graphics card. Its features and moderate battery life (6hours) make it suitable for light workloads and thus a good option for students or home users.
7. Apple MacBook Pro – Best small laptop for Microsoft Office
If you are considering the premium side of things, the Apple MacBook Pro is an attractive option with blazing fast overall performance. For users whose casual work involves a lot of multitasking and working on Microsoft Office documents, this system should mostly satisfy. Its lightweight body and savvy configuration options make it a great choice for everyday task. Aside from office work, it can also be a great companion for travelers, college students and for light-to-moderate video and photo editing.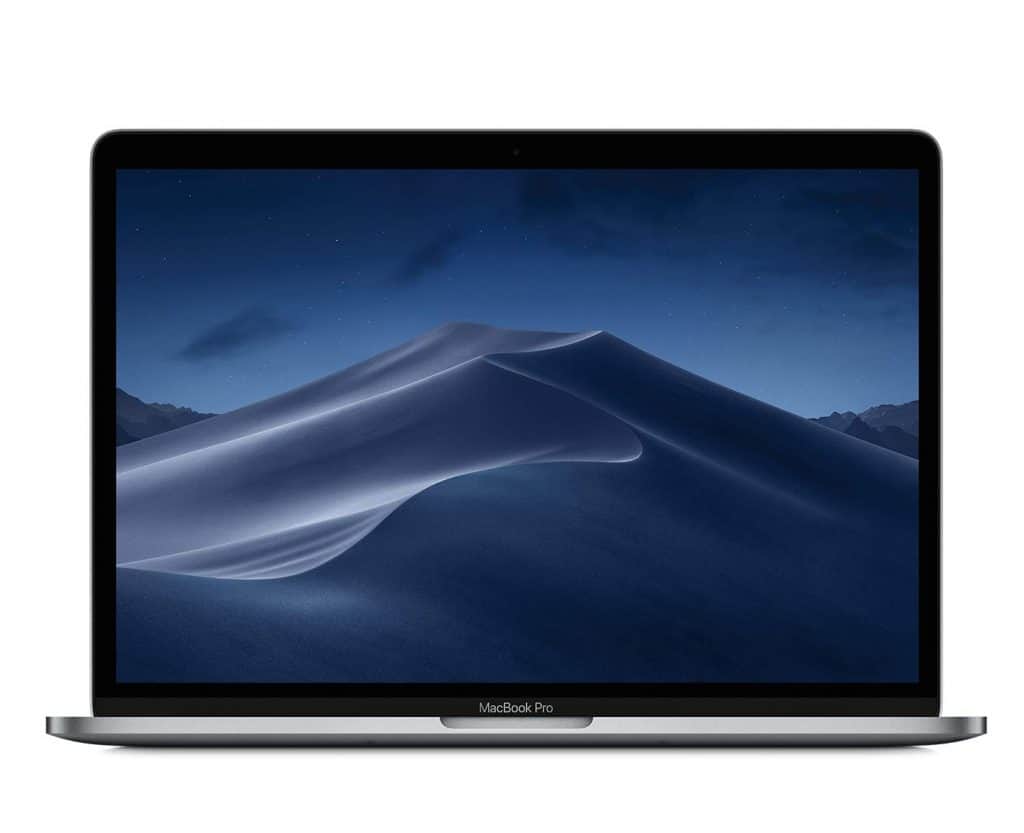 At first glance, you'll notice that the Apple MacBook Pro is made with elegance in mind. It resembles the 2016 model but adds on a few sleek tweaks to make it more attractive. The chassis is made of space gray aluminum finish and it measures 0.59 by 11.97 by 8.36 inches (HWD) and 3.02 pounds. That is reasonable lightweight but other laptops like the Dell XPS 13 manages to be 2.68 pounds while measuring at just 0.46 by 11.9 by 7.8 inches.
Inside the screen, quality is excellent thanks to a display with a native resolution of 2560 x 1600 pixels. The display also brags of In-Plane Switching (IPS) technology which means the picture quality remains unchanged while viewing from extreme off-center corners.
Finally, on performance cycles, Apple completely maxed out on this laptop. It flaunts of an eighth Generation Intel Core i5 processor, 8GB RAM, and a whopping 512GB solid-state drive. Of course, there are other higher and lower configuration options with more memory or hard drive options. For the most part, it is these high-end components that are the reason for its sky-rocketed the price tag. Nonetheless, while this is a caveat, it also is the reason for the MacBook Pro's exclusive performance and we love it for it.
Pros
Great design
Blazing overall performance
Retina display display
Great speakers
Cons
Graphics performance falls behind rivals
Modest battery life
Lacks Full-sized USB or SD slot
High price tag
| | |
| --- | --- |
| Display | 13.3- inches LED-backlit (2560 x 1600 pixels) |
| Processor | 2.3GHz quad-core 8th-generation Intel Core i5 processor with Turbo Boost up to 3.8GHz |
| Memory | 8GB DDR4 |
| Storage | 512GB SSD |
| Graphics Card | Intel Iris Plus Graphics 655 |
| Measurements | 3.02 pounds/ 0.59 by 11.97 by 8.36 inches (HWD) |
The Apple MacBook Pro mixes a good blend of aesthetic, design and performance. If you can afford its price, it will make a great companion for your office tasks, web browsing, and software.
Although the HP Pavilion is far inferior to HP's higher-end Sceptre and Envy, it is by far among the best value machine for users on a tight budget. The Pavilion has many pros, but it thrives for its good balance of style, performance, and price.
The design and aesthetics of the Pavilion somewhat borrow the leek and elegance of the Apple MacBook. The corners are sharper and smoother and the matte aluminum-like surface enshrouding the case give off a classy feel to the laptop.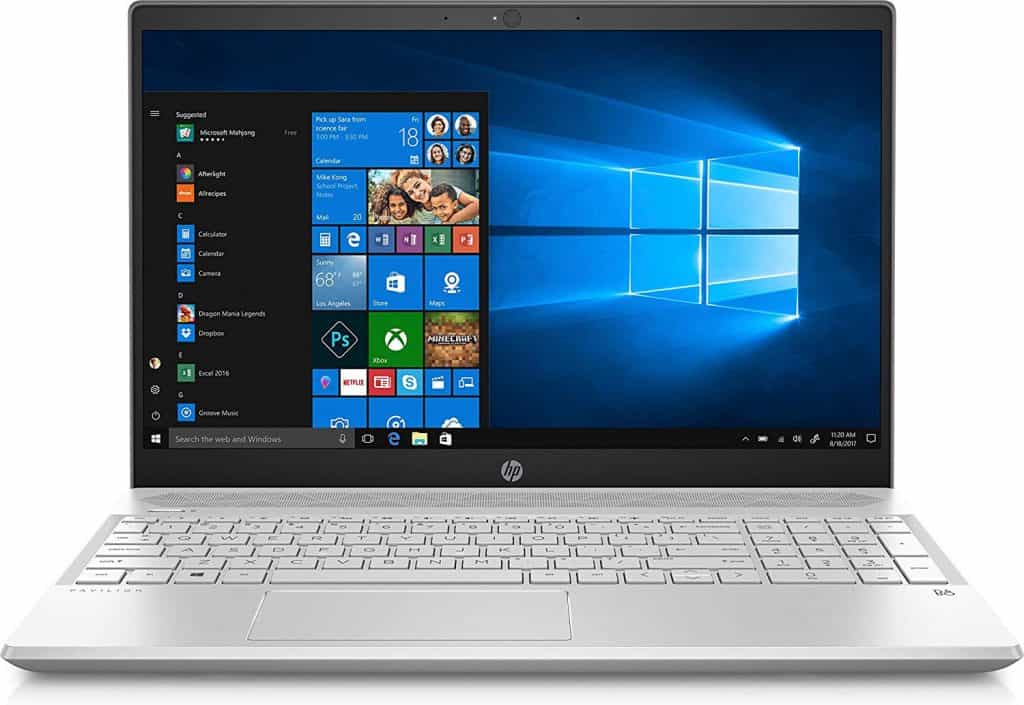 If you're a fan of larger screens, the honking 15.6-inch screen on this laptop will impress you. At 15.6 inches, the display is large enough and perfect for fragging your enemies in games and watching movies with friends. The display is also high-definition (1366 x 768 resolution) and non-touch while at that. The display is merely average compared to other laptops, with just but a few redeeming qualities. Well, images are not as crispy and colors as deep as on the MacBook or Dell XPS but they are reasonably clear. Outdoor visibility is poor and viewing angles average. In short, its a great display for indoor use and for budget users. Keep off bright direct sunlight as the glare on the glossy panel can ruin your visual experience.
In the weight and measurement category, it measures 15 x 11 x 2 inches and weighs 2.65 pounds. That makes it among the lightest laptops in this list. The Dell XPS 13 or Microsoft Surface 2 takes the prize for the thinnest unibodies here.
Connectivity and Performance
As far as connectivity goes, the HP Pavilion has a few futuristic ports in its healthy port system. There is a single USB Type-C port that doesn't support charging. The ports are well-positioned for easy access. The left side ports include a Full-sized HDMI 1.4, RJ-45 port, USB Type-C Gen 1, 3.5 mm combo audio. On the right side, there is a Kensington Lock, two USB 3.1 ports, an AC adapter, and an SD card reader. The laptop supports Bluetooth 4.2 and 802.11ac connectivity.
What makes this laptop a powerful machine for Microsoft Office and related office tasks is the stunning 8th Generation Intel Core i5-8250U processor. Factor in an awesome 12GB of RAM, 1TB of mechanical hard drive and you've got yourself a battle-ready productivity machine. With an integrated UHD graphics 620 card, the HP Pavilion isn't a gamer but it can easily handle web browsing, streaming, and light multimedia use. Moreover, it comes with a respectable battery life of just shy of 7 hours making it useful for almost a whole day of work/school.
Pros
Simple and elegant design
Lightweight body
Great everyday performance
Decent battery life
Modern features Core i5-8250U processor
Healthy port system includes USB Type-C
Cons
| | |
| --- | --- |
| Display | 15.6 inches |
| Processor | 1.6 GHz Intel Core i5-8250U |
| Memory | 12GB DDR4 memory |
| Storage | 1TB HDD (5400RPM) |
| Graphics Card | Intel UHD Graphics 620 |
| Measurements/weight | 15 x 11 x 2 inches/ 2.65 pounds |
Overall, the HP Pavilion is a great choice for budget users. It's one of the best budget options in the best laptops for the Microsoft Office list. If you're looking to start daily productivity on a powerful machine that can handle all tasks you throw at it, the HP Pavilion fits the bill.
The Dell G3 combines a stylish interior with great performance, battery life, audio and price point. And yes, it is a gaming laptop for the price of a productivity machine.
Like the HP Pavilion, the Dell G3 is fairly simple with its aluminum like chassis. Only the Dell G3 is thick and comes with matte curves. There's nothing much fancy about the design, it more or less takes a subtle no-frills approach with minimal branding aside from the while G3 logo on the front dash. The Dell G3 is one of the only laptops with accentuated blue lighting on its keyboard.
At 10.16 x 14.96 x 0.89 inches/ 5.95 pounds is the thinnest entry-level gaming laptop among its competitors such as the Lenovo Yoga Y520. But among the best laptops for Microsoft Office category it is definitely thicker than the Apple MacBook. You should be able to lug it around with you in your daily commute to school or work without feeling strained. On the sides, the port system is visible showing the options of ports available. The left section houses the power jack, an HDMI 2.0 port, a drop-jaw RJ-45 port, two USB 3.1 ports and a headphone/microphone combo jack. The right side also has a few others including a Noble lock slot, one USB 2.0 port, and a 2-in-1 SD/MMC card reader.
Then there's the keyboard. The Dell G3 has a well-built keyboard for long hours of work and play use. The individual keys offer deep travel and tactile feedback. With a backlit keyboard, top-notch layout, and comfortable keyboard, you can type on this laptop for hours.
In terms of performance, what makes the Dell G3 have a leg up its competition is the presence of a graphics card and high-end processor. The Nvidia GeForce GTX 1050 gives the G3 enough heat to blow through gaming titles, intensively graphics tasks and handle more than 30 tabs of Google Chrome. The system also benefits from the 8GB memory for multitasking, 256GB Solid-state drive for a fast booting process and launching of programs/software.
The laptop also boasts of a Full HD display (1920 x 1080) and 6 hours 35 minutes battery life. That means you can work for almost a full day without needing your charger.
Pros
Great performance
Impressive design and aesthetics
Good battery life
Decent audio
Average port system
Cons
Dull display
Poor viewing angles
| | |
| --- | --- |
| Display | 15.6-inch FHD (1920 x 1080) IPS Anti-glare display |
| Processor | 8th Generation Intel Core i5-8300H |
| Memory | 8GB 2666MHz DDR4 memory |
| Storage | 256GB SSD |
| Graphics Card | NVIDIA GeForce GTX 1050 |
| Measurements | 10.16 x 14.96 x 0.89 inches/ 5.95 pounds |
The Dell G3 made it to this list first for its competitive price tag and secondly for the fact that it packs a lethal assembly of features. The combination of Intel Core i5-8300H processor, 8GB memory, 256GB SSD and Nvidia GeForce GTX 1050 makes it a powerful system for Microsoft Office and gaming. It easily tears through modern titles like Middle-earth: Shadow of War with ease.
Conclusion
To summarize everything we've just gone through, Ms. Office doesn't really require much to run it. The 2019 Microsoft Office runs applications such as Word, Excel, PowerPoint, Access, Visio, Project, Outlook, and Publisher applications. Other features added to this Office include the Office 365 released in 2016.  That aside, all the laptops listed surpass the minimum requirements to run Microsoft Office. So you should be okay with any choice on the list, whatever your budget is.
Microsoft Office Minimum Requirements
1.6 GHz or faster, 2-core processor
2.0 GHz or faster recommended for Skype for Business
4 GB RAM for 64-bit; 2 GB RAM for 32-bit
4.0 GB free disk space
1280 x 768 or higher screen resolution
Windows 10, Windows Server 2019
Graphics hardware acceleration requires DirectX 9 or later, with WDDM 2.0 or higher for Windows 10
Frequently Asked Questions (FAQs)
Which is the best laptop for Microsoft Office Word?
Most businesses today demand a lot of word processing to get work done. Employees and staff need to make presentations, write reports, create summaries and the likes, so there's a need for a laptop for Microsoft Word. Truth be told, to run Microsoft Word doesn't require a powerful machine as a MacBook or anything fancy. Microsoft was built for the most basic laptop which means you shouldn't worry much about the RAM, processor and the likes. If anything, just the Microsoft Office requirements should do.
So what is the best laptop for Microsoft Office Word? There are more than a few examples, but the Acer Aspire E15 is a great option for budget users. It has a good balance of performance, design, and price. Aside from the price, it has a comfortable keyboard for its price, which is great for when you'll be writing articles on Microsoft Word. It's not a backlit keyboard, but I think comfort is the most important feature here. The display is Full HD (1920 x 1080) which translates to clear and vivid viewing so you can read articles online or on Ms.Word. The bottom line, it's a worthy investment for what you're getting in return and will work smoothly with Ms. Word.
Which is the best laptop for Excel and Powerpoint?
For users looking to do some work on Ms. Excel, the Asus Vivobook F510UA- AH55 is a great budget laptop for Excel and Powerpoint. Again, I wouldn't say there is any particular requirement to run Excel and Powerpoint apart from the minimum Microsoft Office requirements.  And the reason we recommend the Asus Vivobook F510UA- AH55 is for its balance of features. Inside the hood, you will find an Intel i5-8250U processor, 8GB RAM, and Intel HD 620 graphics. Combined, these features are more than the required minimum to run Excel and Powerpoint. Apart from Microsoft Office, the VivoBook should be able to run other Ms. Office software and Adobe Photoshop without much problem. The fans kick in when handling heavy multitasking load, but thankfully it doesn't get obnoxiously loud. The battery is modest at 6 hours 47 minutes but it should get you through almost a whole day of work. Also at 3.5 pounds, it shouldn't be such heavy dead weight for your daily commute to work or college.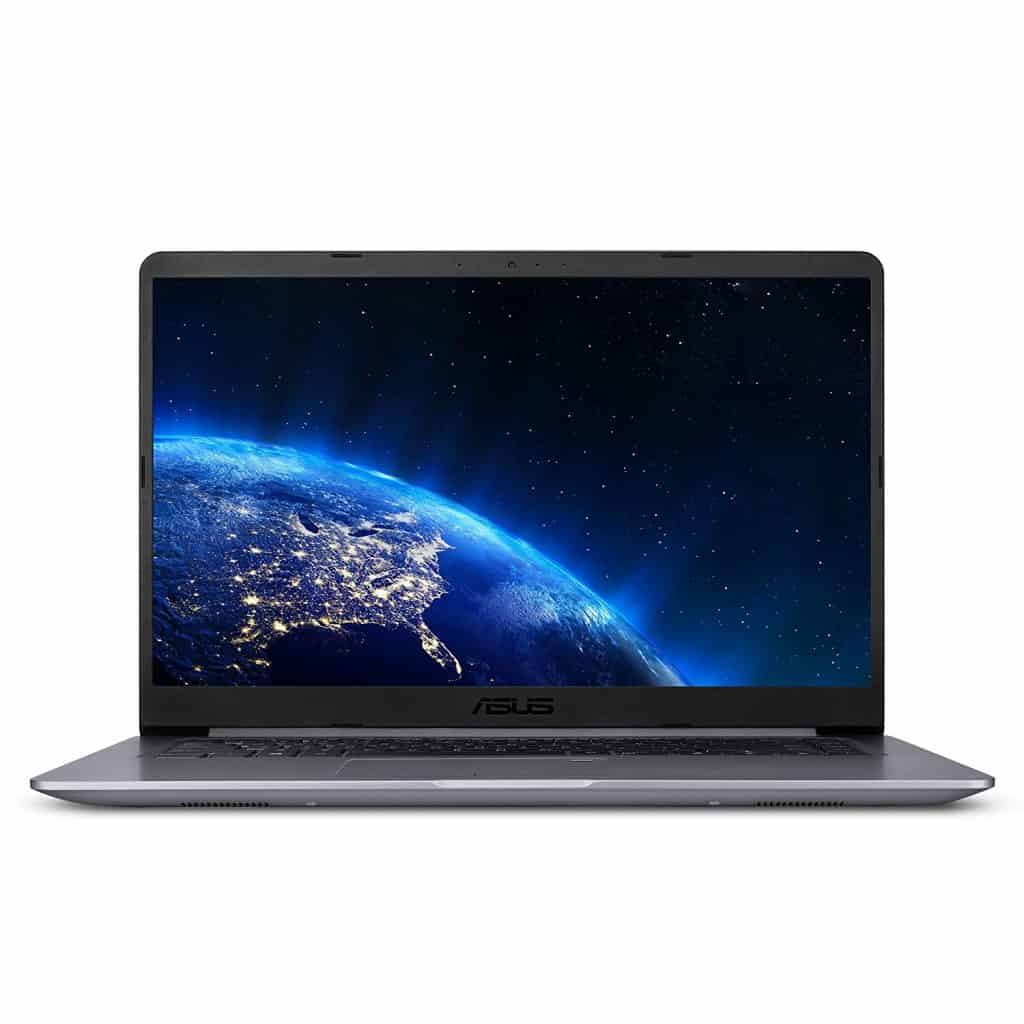 Do computers come with Microsoft Office?
Whether or not computers come with Microsoft Office pre-installed or included is one of the most commonly asked questions. Well, generally, computers don't come with Microsoft Office pre-installed. For a short period of time in history, Microsoft shipped with Microsoft Office included, but that was a long time ago and it ended. For the most part, I think it is the reason behind this misconception that any new computer comes with Microsoft Office installed. What they do come with is a TRIAL version of Microsoft Office that one can use before it disables itself. That is if you don't subscribe to it within the given frame of time.
To continue using it, you must pay for it and reinstall it at which point it will request for a product key (Microsoft sends the product key upon payment) If you don't have the money to keep paying for this subscription, you can always find fairly good alternatives out there. I'm talking about options like • Libre Office • Google Docs and • Office Live.  If you like many out there find the Microsoft Office expensive, any of these should get the work done. Libre Office, for instance, is compatible with Microsoft Office items such as Doc and Docx formats.
What laptops come pre-loaded with Microsoft Office?
What laptops come with Microsoft Office installed? What laptops come with Microsoft Office included? Are there any laptops that come with Microsoft Office? All these are just one and the same questions. And to answer, the answer is No. As far as I know, laptops don't come pre-loaded with Microsoft Office. I was tempted to say the Microsoft Surface Book series come with Microsoft Office because of the similar name pattern. But on closer look, that was a bit dumb of me. What the laptops ship with is a free TRIAL of the Microsoft Office. Not unless you're buying a used laptop on say Amazon and the owner has a paid version of Microsoft Office (I've seen a bunch of these on Amazon).
The Surface Laptop 2, for instance, ships with a Windows 10 Home operating system and a Microsoft Office 365 30-day trial version. After the 30 day trial, you will have to pay to receive the product key which unlocks the Full Microsoft Office version. That applies to the Surface Pro 6 and most other laptops in the industry. With the Surface Pro 6, however, you will need to subscribe to Office 365, Microsoft's cloud-based version of Microsoft Office.