A good laptop is possibly one of the most useful tools you'll need in college. The best laptop for college under $300 will help you to do assignments, class projects, research papers while giving you plenty of entertainment options. However, with all the school work and hectic social life, you might not have to find time to shop around for a laptop that meets both your needs and budget. 
Our Top Laptops for College Under $300
Affordable laptops may not have a lot to offer in terms of power. Yet, some models can make your college life and work more manageable. That being said, if you are looking for better specs or laptops for specific tasks such as gaming, feel free to check out any of our other expert buying guides. 
Brand
Best Overall
HP Chromebook 11 Touchscreen
Best for the Money
Samsung Chromebook 4
Best Cheap Pick
ASUS VivoBook L203MA
Product
Best Overall
Brand
HP Chromebook 11 Touchscreen
Product
Best for the Money
Product
Best Cheap Pick
Product
Best Overall Laptop for College Under $300: HP Chromebook 11 Touchscreen 
The HP Chromebook 11 has everything you need for a comfortable school life; a premium design, comfortable keyboard, high-quality display, and great speakers. Although there are some downsides like ridiculously low storage and subpar battery life, we find this laptop a great fit for college students. 
The HP Chromebook 11 sports a modern yet minimalist design. It's one of the few laptops that manage to put a premium touch on plastic bodies. The matte finish may not win any awards but it is sure to catch your attention. This laptop feels sturdy and promises durability for an insanely low price. 
Since you will be moving around with your laptop a lot, portability is not something you'd want to ignore. Weighing only 2.1 pounds with an 11.81 x 8.1 x 0.81 inches svelte frame, the Chromebook 11 offers much-needed portability. It's thin, lightweight and you can easily stow it in tight spaces. 
The keyboard offers an overall good typing experience. Whether you're completing your assignments, doing a research paper or simply browsing the net, your fingers will no doubt feel at home on the matte plastic keys. They're well-spaced out and require minimal effort to press.
There is nothing particularly grasping about the 11.6-inch display. In fact, it's average at best. However, considering that this device is on the lowest end of price points, we find the anti-glare feature and decent resolution a fair deal. If you'll be using the laptop for long, your eyes will not suffer that much. 
The video output is not outstanding but good enough for low-resolution videos. You can treat yourself to a few movies after a long day of class without feeling like you're watching something from the '80s. You'll also love the audio quality. While it doesn't match that of pricier laptops, you'll still be able to enjoy some quality audio without the help of external speakers. 
The Chromebook 11 comes in a small chassis which means limited space for ports. However, HP managed to squeeze in all the ports needed for a seamless peripheral connection. This model includes two USB ports (USB 2.0 and USB 3.0), an audio jack, an HDMI port, and an SD card reader. 
The general performance is exactly what you would expect from a low-priced device. You should be able to do basic school work with a few treats of entertainment. However, you can't engage in any serious gaming, video-editing or any other graphic intensive activity. 
Specifications 
Display: 11.6 inches, 1366×768 pixels 
CPU:  Intel Celeron Processor N2840
RAM: 4GB DDR3 
Storage: 16GB
GPU: Intel HD Graphics 400 
Battery Life: Up to 7 hours 
Weight: 2.3 pounds 
Pros
Comfortable keyboard
Decent video and audio quality 
Sturdy build 
Good display 
Competitive performance 
Cons
Below-average battery life 
Insufficient storage 
Sale
Best Laptop for College for the Money: Samsung Chromebook 4 
The Samsung Chromebook 4's design is nothing but a reflection of its price. It has an aluminum top, a silver hue, curved edges and a plastic body to remind you that you won't be paying much for it.  The design is slightly let down by chunky display bezels but there is still a lot to be admired in this budget device. 
For instance, this laptop has a USB-C port which is a major win for this price point. The keyboard also got our attention. You might find the keys a little shallow but the general typing experience is satisfying. You should be able to type fairly fast and finish your assignments, projects or research papers on time. 
The audio quality is good enough for listening to music and watching videos without the need for peripheral speakers. Although, if you want even better sound quality you can invest in a pair of headphones or computer speakers. 
The Samsung Chromebook 4 is powered by an Intel Celeron 3000N processor. The base model comes with 4GB of RAM and 32GB storage but you can upgrade it to 6GB of RAM and 64GB storage.
You'll find the performance quite plausible for this price point. You can open multiple tabs while browsing and stream Youtube videos without any lag in the performance. 
The best part is, you can play basic games like Asphalt 9 and other racing classics without any issues. Even better, the battery life can last a whole day. 
Specifications 
Display: 11.6 inches, 1366 x 768 pixels 
CPU: Intel Celeron 3000N
RAM: 4GB 
Storage: 32GB
GPU: Integrated Intel graphics 
Battery Life: Up to 10 hours  
Weight: 3.65 pounds 
Pros 
Comfortable keyboard 
Long battery life
Portable 
Decent performance 
Cons 
Best Cheap Laptop for College: ASUS VivoBook L203MA 
The ASUS VivoBook L203MA is our cheapest recommendation but still checks all the right boxes for a good college laptop. ASUS put a lot of design effort into this laptop despite its low price. Right off the bat, the honeycomb cover with a perfectly contrasting Asus logo will catch your attention. 
Like our other recommendations, the ASUS VivoBook L203MA has a plastic body although the overall aesthetic doesn't show this. What you'll see, instead, is a compact body with an air of elegance about it. It's a bit heavier than the HP Chromebook 11 but the difference is barely noticeable off the paper. 
Again, if you are into touchscreens, you should consider the HP Chromebook 11 since this model and the Samsung Chromebook 4 don't have it. However, you'll fall for the 11-inch LCD display on the ASUS VivoBook L203MA. It's not outstanding but good enough for a budget laptop. 
This might not be the ideal option for web design, watching HD movies, playing heavyweight games or editing media. For normal college work like browsing, typing, reading or devouring low-resolution videos, you'll find the display acceptable. 
The Intel Celeron N4000 Processor coupled with 4GB of RAM will ensure that you enjoy decent performance. 
The 2-cell battery is hard to look down upon. It doesn't offer the stability of high-end laptop batteries but if you stick to tasks that a low-budget device such as the ASUS VivoBook L203MA can tolerate, you won't have any complaints. 
The chiclet-style keyboard leaves a lot to be desired. It would have been much better with backlighting, a luxury reserved for the fancier laptops. However, that small detail is barely a deal-breaker. 
Specifications 
Display: 11.6 inches HD, 1366 x 768 pixels
CPU: Intel Celeron N4000
RAM: 4GB LPDDR4
Storage: 64GB em flash
Battery Life: Up to 8 hours
Connectivity: USB Type-C (Gen 1), USB Type-A, HDMI, Wi-Fi 5 (802. 11AC)
Weight: 2.2 pounds
Pros 
Affordable
Comfortable keyboard
Impressive design
Has a USB-C port
Decent battery life
Cons
Sale
ASUS VivoBook L203MA Ultra-Thin Laptop, Intel...
Efficient Intel Celeron N4000 Processor (4M Cache, up to 2.6 GHz)
11.6" HD (1366 x 768) Display with HD webcam
Compatible with Google Classroom; run Google Classroom on Microsoft Edge or Internet Explorer 11
Features to Consider in a College Laptop
We don't expect an impressive specs sheet to accompany a budget laptop. However, that doesn't mean that you should settle for a mediocre one. There are a few features that make a laptop a good fit for college students.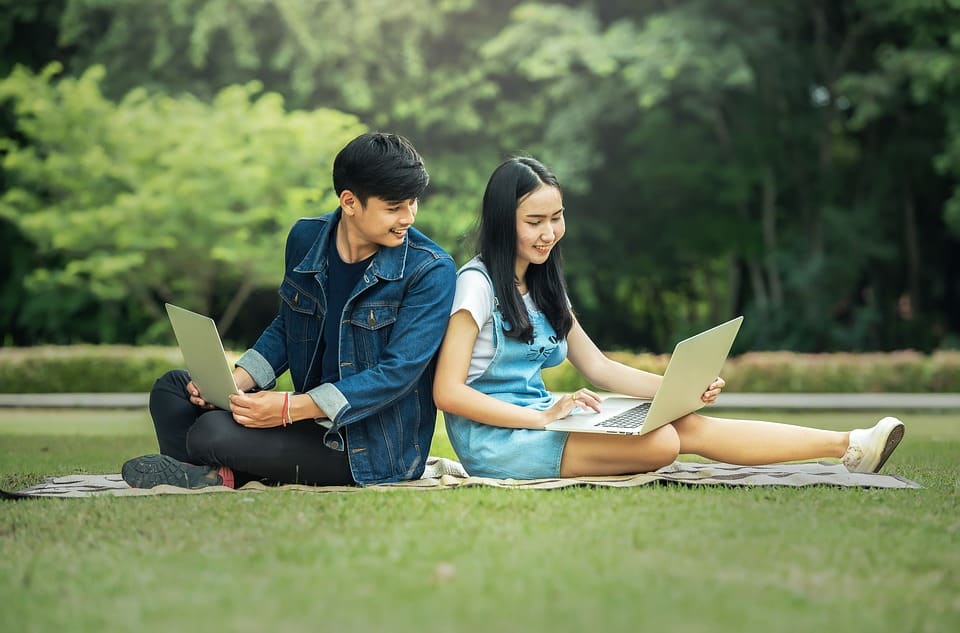 Portability
Most budget laptops don't come with a thin premium body. That's a problem because you will probably be moving around a lot with your laptop. You'll need to carry it from one class to another or to the library to finish the day's assignments. This makes durability a crucial factor to consider when buying a laptop for college. 
A good laptop should be small enough to easily fit in your backpack and light enough to carry around. Heavy and big laptops are not only uncomfortable to carry but may also add to your list of health problems. Look for a 14-inch or smaller laptop that weighs no more than 4 pounds. 
Durability
The primary reason you are looking for a budget laptop is probably that you don't have a lot to spend. That also means you are not in a position to buy a new laptop every few months. It is, therefore, important that you invest in durability with the little you have. 
You should generally look out for laptops made of durable materials such as aluminum, carbon fiber, and magnesium alloy. Stick to well-known brands and check to see if the laptop has undergone any durability test. 
Display
You'll spend a significant amount of time in college writing, watching movies, music videos and playing video games. A good laptop should be able to take care of these needs and that means a good display resolution.  A laptop under $300 doesn't have much to offer in terms of display quality yet you should be able to get a few good picks. 
All the laptops we have recommended in this guide have decent resolutions. However, if you are into serious gaming or video editing, we recommend that you look for better options. You'll obviously spend more but the investment is worth it in the long run.  Also, you don't need to worry about touchscreens. They are unnecessary and consume a lot of power.  
CPU
With less than $300 you'll probably get an Intel Core i5 or lower. A core i3 is good enough for light college tasks but if you get a Core i5, don't hesitate to take it home.
RAM
For this price point, you'll probably get 4GB or 6GB of RAM. That's all you need for now. You should be able to comfortably do your research and use word processors without a glitch. Just don't put your laptop under a lot of performance pressure. 
Storage 
The definition of enough storage for a laptop under $300 differs from that of high-end options. You won't get much in terms of storage and yet, you should be able to store all your schoolwork. Delete videos after watching and don't download big software or apps.
Generally, we recommend solid-state drivers but you can always complement the storage with external hard drives. 
Conclusion 
We hope that this guide will help you buy the best laptop for college under $300. The laptops recommended above are pretty basic and are only good enough for everyday college stuff. You don't have to confine yourself to this list. If you are looking for more expensive options with better features, we have a lot of other amazing buying guides you might find helpful.