Whether you are a professional developer or just getting started with HTML, JavaScript, CSS, and programming, you need a powerful laptop that can keep up with you. This buying guide will go over the best laptops for programming.
We've reviewed several top models in the market to help you get a laptop that clicks with both your coding needs and budget. 
Our Top Laptops for Programming Reviews
After long hours of research and reading expert and customer reviews, we have identified the following laptops as the best fit for programmers and software developers. These laptops pack great features that make them perfect for programming.
These include powerful processors, sufficient storage, long battery lives, portable designs, and competitive operating systems.
Brand
Best Overall
Apple MacBook Pro 15
Best for the Money
Microsoft Surface Laptop 2
Best Cheap Pick
Huawei Matebook 13
Product
Processor
2.6GHz 6-core Intel Core i9
Best Overall
Product
Processor
2.6GHz 6-core Intel Core i9
Best for the Money
Brand
Microsoft Surface Laptop 2
Product
Best Cheap Pick
Product
Best Overall Laptop for Programming: Apple MacBook Pro 15
Granted, the Apple MacBook Pro 15 is insanely expensive. Yet, if you are looking for a programming powerhouse with a powerful Hexa-core processor, 16GB of RAM, and generous SSD storage, this laptop will skyrocket your productivity in no time.
This is a great pick for software developers working on a program to be used on the Mac Operating system. This model comes with an Intel Core i9 processor, 16GB of RAM, and 256GB SSD storage. However, if you are feeling financially blessed, you can upgrade to the more beastly MacBook Pro with an Intel Core i9 processor and 512GB SSD storage.
The powerful Core i9 processor and 16GB of RAM will see this laptop breeze through beefy programming software like Android Studio and Visual Studio Code. With 512GB SSD storage you will have enough space to store project files and all the software you are using.
Its Retina Display with True Tone technology will help programmers read code more easily. The 15-inch is something to fall back on if you need a break from tiny and uninspiring screens. Aside from the impressive 2,880 x 1,800 resolution, you will also get decent AMD Radeon Pro 540X graphics for developing catchy and high-quality user interfaces. 
What We Like
Powerful Hexa-core Intel Core i9 processor for seamlessly running programming software
A dedicated Radeon Pro 540X graphics card with 4GB of video memory.
16GB of RAM for quickly starting and running programming software and IDEs.
High-quality 15-inch display for programmers who value clarity and natural color production.
Weighs only 4 pounds which is fairly portable for a 15-inch display.
Sufficient SSD storage for storing your programming software, code and other files related to projects you are working on.
What We Don't Like
It's very expensive making it unfit for programmers on a budget.
Overheats when used for long hours.
Subpar battery life especially on heavy use.
Best Laptop for Programming for the Money: Microsoft Surface Laptop 2
While the Microsoft Surface Laptop 2 might still be too pricey for some programmers, it's way cheaper than the MacBook Pro 15. This is a good option for developers who prefer the Windows Operating System as opposed to the macOS.
While some of its features are a slight step back from what you get with the MacBook Pro 15, considering the significant price drop, you might find this a welcome compromise. The Core i5 processor and 8GB of RAM will help your programming tools run fluidly especially when compiling code for complicated website or app layouts.
Surface Laptop 2 is a tech-filled device with everything a programmer needs to finish tasks quicker. Tipping the scales at only 2.7 pounds, it is way lighter than the MacBook Pro and some of the other recommendations in this guide.
On top of that, you get a slim design making this laptop a great option for programmers who like working on the go.
The PixelSense display is a major win for any programmer who doesn't want to spend more on Apple's retina display. It is very responsive and makes it pleasantly easy to interact with the screen when coding or designing a mockup front-end for your next project. 
Although the 2256 x 1504 resolution is not as impressive as MacBook Pro's 2,880 x 1,800 resolution, it is still something most mid-range programmers can comfortably work with. The Surface Laptop 2 packs a keyboard that is responsive, comfortable, and easy to use while punching in lines of code.
What We Like
Fast 8th generation Intel Core i5 processor and 8GB of RAM for fluidly running your programming tools and testing your work.
Comfortably and punchy keyboard for writing code faster and more efficiently.
Very portable making it a good option for developers who work on the go or travel frequently.
High-quality display for producing top-notch websites and application interfaces.
The long battery life will see to it that you write code for long hours without having to carry your charger everywhere you go.
The 256GB SSD storage is enough for storing your project files and any programming software you may be using.
What We Don't Like
The high price may scare away developers on a budget.
Lacks Thunderbolt 3 and USB-C ports
Sale
Microsoft  Surface Laptop 2 (Intel Core i5, 8GB...
Clean, elegant design — thin and light, starting at just 2.76 pounds, Surface Laptop 2 fits easily...
Choose from rich tone on tone color combinations: Platinum, Burgundy, and Cobalt Blue
Improved speed and performance to do what you want, with the latest 8th Generation Intel Core...
Best Cheap Laptop for Programming: Huawei Matebook 13
The reasonably priced Huawei MateBook 13 will perfectly cater to programmers looking for budget laptops. It comes with most of the features that you will find in the Microsoft Surface Laptop 2 but for a smaller price. These include an Intel Core i5 processor, 8GB of RAM, 256GB storage and integrated Intel Graphics.
If you want a more powerful performance for running advanced programming software, you can upgrade the processor to an Intel Core i7. Although you will pay more for this, you will be able to enjoy faster programming, especially when compiling and deploying many lines of codes.
This laptop is also incredibly portable since it weighs a mere 2.5 pounds. Coupled with the slim design, it is a great choice for coders who travel a lot or just like working on the go. This is plausible considering that this laptop packs some powerful internals without compromising portability.
While the 8GB of RAM will be enough for most mid-range programming tasks, the fact that you can't upgrade it may inconvenience developers who want faster speeds.
The Intel processor will breeze through most programming software. Together with the 8GB of RAM, you can expect the laptop to perform incredibly faster than other low-end options. If you don't want the integrated UHD Graphics 620, you can opt for the discrete NVIDIA GeForce MX 150.  
What We Like
Powerful whiskey Lake processor and 8GB for fast performance when running IDEs or testing your code.
Weighs only 2.5 pounds with a slim design that makes it fairly portable.
You can upgrade to dedicated NVIDIA GeForce MX 150 graphics for better display performance.
Sufficient 256GB SSD storage for fast performance and storing your project files and relevant IDEs.
Comfortable keyboard for writing code faster.
Durable with strong, build quality.
What We Don't Like
Unable to upgrade RAM
Most models have issues with WiFi connectivity.  
Huawei Matebook 13 Signature Edn. Laptop - 13" 2K...
Thin, light & portable: weighs only 2.86 pounds (or less with integrated graphics) and measures...
Fullview touch Display: feels larger than 13" - thin Bezel at only 4.4mm, 88% screen-to-body...
Powerful performance: 8th Gen Intel Core i5 8265U Processor boosts performance up to 40% over its...
Best Portable Laptop for Programming: Google PixelBook
If you move often, commute to the workplace or like working on the go, you need a laptop that is easy to carry around. Although most of the recommendations in this guide are reasonably portable, we think Google PixelBook is the best for programmers on the move.
First off, the laptop has a really slim design, is often dubbed as one of the best Chromebooks in the market. It weighs only 2.45 pounds which is lighter than our other recommendations. This makes it a piece of cake to carry around and work with code on the go.
It's often a norm for ultra-portable laptops to compromise on performance. However, Google PixelBook strikes a satisfying balance between portability and performance. Despite its portable design, it still manages to pack some of the most crucial features to a programmer.
These include an Intel Core i5 processor, 8GB of RAM and 128GB of SSD storage. If you store large project files or have big-sized programming software, you may find the 128GB storage insufficient. In this case, we recommend you go with the Microsoft Surface Laptop 2 which goes for the same price, and yet it has double the size of SSD storage.
Being a convertible, the compromise on internal storage is understandable since most 2-in-1s come with this size. So, if you are looking for a convertible that you can either use as a standard laptop or tablet while working on your programming projects, you will find this laptop to be a great pick.
What We Like
A decent Intel Core i5-7Y57 CPU with 8GB for fast performance and increased productivity.
A portable design that makes it a good option for programmers who travel a lot, commute, or work on the go.
Good quality display with decent brightness and sharp colors.
An easy to use a keyboard that offers speedy typing when writing code.
Decent battery life that allows you to work on your coding projects for more than 7 hours without having to plugin.
What We Don't Like
The 128GB SSD storage might be insufficient for programmers that store large files.
It only comes with USB-C ports. This might inconvenience programmers that use other types of USB devices such as USB-A cables.
Google Pixelbook (i5, 8 GB RAM, 128GB)...
Meet google pixel book, the high performance chromebook; it's the first laptop with the google...
Features 7th gen intel core i5 processor, 8gb ram and 128gb for storage; the long lasting battery...
The 4 in 1 design adapts to whatever you're doing with laptop, tablet, tent and entertainment...
What to Consider When Buying the Best Laptops for Programming
When buying a laptop for web or software development, it pays to look beyond bells and whistles and only focus on features that will directly contribute to more productivity in your work. Below are some of the features to prioritize when buying a programming laptop.
CPU
Programming without a fast processor can be a nightmare. This is because most programming tasks directly depend on the processor to function. While writing code itself won't require much processing power, compiling, and running it will need a decent CPU.
Depending on the intensity of your project, you will be fine with an Intel Core i5 and above with a speed of at least 2.5 GHz.
RAM
For entry-level programming languages like HTML and CSS using such IDEs as Eclipse, you can work with 4GB of RAM. However, we don't usually recommend this since it makes the laptop slower. To be on the safe side, stick to 8GB and above.
This is especially important if you are working with an advanced development environment like Android Studio. The good news is, you can upgrade most RAMs, so you can start with 8GB and increase it in the future if the need arises.
Storage Capacity
For programming, we recommend that you stick to solid-state drives (SSDs) as opposed to Hard disk drives (HDDs).
SSDs are faster since they don't have movable parts like standard hard drives. They are also less noisy and partly take care of overheating issues.
Sufficient SSD storage will make the laptop faster when booting up the operating system, launching your programming software, loading your projects, and compiling code.
In this regard, we recommend no less than 128GB for the most basic programming tasks or 512GB-1TB for more demanding projects.
Keyboard
A big part of programming involves entering code into an IDE such as NetBeans, Eclipse, or Notepad++.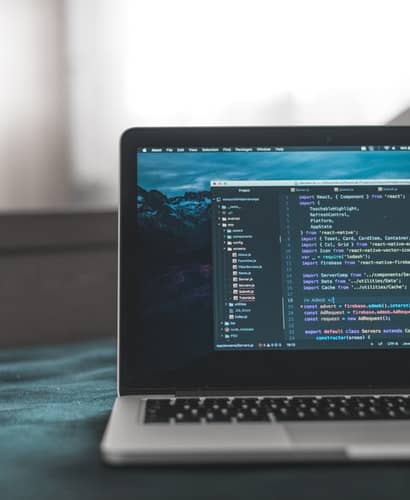 This means that you will be using the keyboard most of the time. For this reason, you will need a comfortable keyboard, with a nice layout and decent key travel.
For programming, we recommend keyboards that have a number pad since it makes it easier to access digits when writing code.
Backlit keyboards are also better since you can use them when working in dim in a dim room with no lights.
Display
A good display is important for any task you do with your laptop. You probably write code for long hours every day. Therefore you need a screen that is both lenient to your eyes and is of high quality. When testing your code, you want to be able to see every detail clearly so the end result is good enough.
We generally recommend Full HD display for programming tasks. 4K resolution would be overkill but you have the money, feel free to break a leg.
Operating System
If you choose to go with our top recommendation, you will inevitably have to use the macOS. Otherwise, for the other options, you will use either Windows or the Chrome OS for Chromebooks.
Some programmers will want to use Linux instead of Windows since it offers more development tools known as Linux distributions. In this case, we recommend that you buy a laptop with pre-installed Linux OS as opposed to installing it yourself.
Conclusion
There are a lot of factors you need to factor in before buying the best laptops for programming. These include processing power, internal storage, battery life, display quality, and the operating system.
With this in mind. We hope that this guide will help you buy a laptop that will not only make your work easier but also boost your productivity.