Finding information online is now easier than ever. However, to enjoy the flexibility and convenience of learning or doing anything you want off the cloud, you need a good laptop. If you don't know what to look for, we specifically prepared this guide to help you find the best laptops for internet surfing. 
Our Top Laptops for Internet Surfing
We did plenty of research and identified a few laptops that offer the best online experience. If you are looking for laptops with uncompromising browsing speeds, you should consider the following recommendations. 
Brand
Best Overall
Acer Aspire 5
Best for the Money
Apple MacBook Air
Best Cheap Pick
HP Premium 15
Product
Processor
1.8GHz dual-core 5th-generation Intel Core i5
Best Overall
Product
Best for the Money
Product
Processor
1.8GHz dual-core 5th-generation Intel Core i5
Best Cheap Pick
Product
Best Overall Laptop for Internet Surfing: Acer Aspire 5
You will love the Acer Aspire 5 for its huge screen. However, that is not the only reason we think this 15 inches laptop is the perfect fit for navigating the internet. The display's Full HD resolution is immediately satisfying. You'll see everything you do on the internet with impressive clarity on the roomy 15.6-inch screen. 
The combination of an Intel Core i7 processor and 12GB of RAM will ensure fast and reliable browsing. Even the most complicated web pages will load quickly to save you the frustration of slow browsing speeds.
There is also 512GB SSD storage. This will help you have a tremendous speed performance while offering you enough space to store all your files and applications. If you are also into the habit of downloading many files, you won't run the risk of running out of space too soon.
The laptop comes with a dedicated 2GB NVIDIA GeForce MX250. This in combination with the ample RAM and 8th generation Core i7 processor will strip complications from your surfing experience. You can open multiple tabs without bottlenecking the laptop's performance. 
The discrete graphics will also allow you to play some internet games and browse graphic-intensive webpages without any major performance hiccups. On top of that, you get a comfortable backlit keyboard for speedy typing while browsing. 
The battery life is pretty impressive. You can get up 10 hours of uninterrupted internet surfing without having to recharge. 
What We Like
Competitive processor and 12GB RAM for fast browsing
Sufficient 512GB SSD storage 
Discrete 2GB NVIDIA GeForce MX250 for playing online games
Long battery life 
Comfortable backlit keyboard for speedy typing while browsing
Highly quality display for watching online videos 
Attractive design 
What We Don't Like 
A bit bulky for internet surfers on the move 
Doesn't come with an optical drive 
Pricey 
Acer Aspire 5 Slim Laptop, 15.6" Full HD IPS...
8th Generation Intel Core i7 8565u Processor (Upto 4.6 gram Hz) | 12GB DDR4 Memory | 512GB PCIe NVMe...
15.6" Full HD (1920 x 1080) widescreen LED backlit IPS display | NVIDIA GeForce MX250 with 2 GB of...
1 USB 3.1 Type C Gen 1 port, 2 USB 3.1 Gen 1 Ports (one with Power off Charging), 1 USB 2.0 Port & 1...
Best Laptop for Internet Surfing for the Money: Apple MacBook Air 
The Apple MacBook Air is an easy recommendation when it comes to internet surfing. While some of its features are a step back from what you get with the Acer Aspire 5, the laptop will still treat you to impressive overall performance. 
Consider this instead of the Aspire 5 if you are looking for a smaller more portable design, longer battery life, and a more lenient price tag. 
On paper, it's easy to think that the MacBook Air is a lesser performer compared to the Aspire 5. This is because it comes with an Intel Core i5 processor, 8GB RAM, 128GB SSD storage, a smaller 13.3-inch screen, and integrated graphics. 
However, this is only partly true. This laptop is just as powerful. You will still get the same fast browsing speeds, fast video streaming, and an even longer battery life. 
The MacBook air sports a premium and portable design that is more likely to attract the attention of internet users on the go. For instance, if you operate an online venture and move around a lot, this will be the perfect laptop to pack. You can comfortably use it while traveling or when on vacation. 
The 1.8GHz dual-core Intel Core i5 processor and 8GB RAM make for a formidable combination for internet surfing. You can open multiple tabs and navigate sites with complicated structures without any significant issues. The built-in Intel HD Graphics 6000 GPU will also help to make your browsing experience more streamlined.
Although the GPU is integrated, you can play some entry-level online games, do creative work using cloud-based applications, and enjoy some video streaming.
What We Like
Long battery life for uninterrupted browsing 
Competitive processor and 8GB of RAM for smooth internet surfing 
Portable making it a good fit for internet surfers on the move 
Stylish design 
What We Don't Like 
A bit pricey 
Lackluster SD display 
Insufficient SSD storage 
Sale
Best Cheap Laptop for Internet Surfing: HP Premium 15 
If you are doing light internet surfing like reading news, using social media, or doing research, you don't need an expensive laptop with killer specs. You can still get a cheap option that is up to the task although you will have to comprise on a few performance aspects. 
If you are looking for a cheap laptop for internet surfing, we recommend the 15.6-inch HP Premium. For this price point, you are getting a laptop that will comfortably take care of most of your internet browsing needs. 
While the 4GB of RAM and an Intel Core i3 processor means that you will be getting a less exciting browsing experience, all is not lost. The dual-core Intel Core i3 processor clocked at 2.4GHz is capable of fast browsing. You can still open more than a few tabs and play some mobile-level games. 
Blended with the 4GB of RAM and a 15.6-inch HD display, you will enjoy satisfying light browsing. The best part is, you can browse for up 10 hours without draining the battery. 
However, as is the custom with most cheap laptops, the HP Premium does come with a bit of weight. It weighs 4.72 pounds which places it on the far end of portability. The HD display is also not much for streaming or playing games online.
What We Like 
Huge 15.6-inch Display 
Generous 1TB HDD storage
Long battery life for longer browsing on a single charger 
Lenient price tag for internet users on a budget
What We Don't Like 
Too heavy for internet users who travel a lot 
Average display quality 
HP Premium 15.6-inch HD WLED-Backlit Display...
15.6" diagonal HD SVA BrightView micro-edge WLED-backlit (1366 x 768), Intel HD Graphics 620
Intel Dual Core i3-7100U 2.4GHz 3M Cache Processor, No Optical Drive, HP TrueVision HD Camera
4GB DDR4 SDRAM 2133 MHz, 1TB 5400 rpm SATA Hard Drive, Stereo speakers
Best Convertible Laptop for Internet Surfing: Dell Inspiron 13 
For more convenient internet surfing, you might want to consider getting a 2-in -1. This is a computer that you can either use as a tablet or a standard laptop. They are also known as convertibles or hybrid laptops. 
Most convertibles are portable which means you can easily carry them around and browse on the go. The Dell Inspiron 13 is a perfect example of a 2-in-1 laptop that will significantly revolutionize your browsing experience. 
It packs a powerful blend of features for superfast browsing. These include a 3.5GHz Intel Core i7-7500U CPU, 8GB of RAM, 256GB SSD storage, and Full HD display. 
With this kind of internals, you can expect incredibly responsive browsing even on heavy visual web pages. The 13.3-inch FHD (1920 x 1080) is ideal for watching videos online or doing some creative tasks. 
Aside from the tablet and laptop mode, you can also use this laptop in a tent mode especially when multitasking. For example, while in this mode, you can watch an online tutorial while preparing your favorite meal. 
The display supports IPS Truelife LED-backlit for better viewing experience. While the integrated Intel HD Graphics 620 GPU is not built for hardcore gaming, video streaming, or creative design, it can comfortably handle most web browsing tasks. 
What We Like 
Powerful Processor with 8GB of RAM for fast browsing 
Portable design for browsing on the go
Backlit keyboard for speedy typing even in dim areas 
Versatile convertible design 
Full HD display 
What We Don't Like
A bit pricey 
Doesn't come with an optical drive 
What to Look for in a Good Laptop for Internet Surfing 
The best laptops for internet surfing don't need top of the line specs. Below are some of the most important features to look out for when buying a laptop to use for browsing.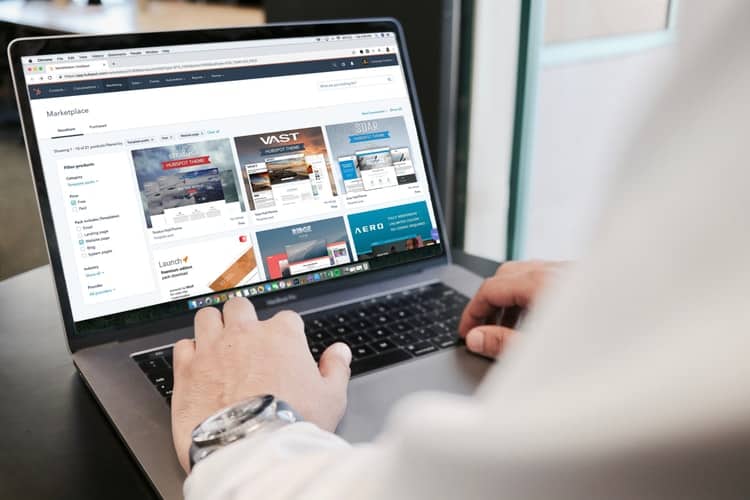 Portability
If you travel a lot or commute daily, you will need to look for a laptop that is easy to carry around. In this case, you will have to sacrifice the display size to get a more portable option. It is a bit difficult to find a laptop that is both portable and with a big screen. You will have to either sacrifice portability or opt for a smaller display. 
So if you care more about portability that screen size, we recommend for an 11-13-inch display. This will allow you to browse on the go especially if you are operating a location-independent online business. 
Display 
When it comes to the display, you will need to consider both the screen size and resolution. Bigger screens are in most cases better for internet surfing since they provide more real estate for online content. If you are looking for a big screen, you should go for either a 15-inch or a 17-inch. Keep in mind you will most likely have to sacrifice portability for a bigger screen. 
In terms of resolution, Full HD is often the sweet spot. However, you can go with an HD resolution. If you are feeling lucky finically, 4K resolution would be great. You should also check how comfortable the screen is to look at especially if you are browsing for long hours.
You want to go for one that is not harsh on your eyes and offers the best viewing experience. 
CPU
This is the brain and heart of the laptop. For this reason, the processor is at the core of every internet surfing exercise. When you open a browser, type on your keyboard to search for info, or play a video, the processor is responsible for executing the right command to ensure that everything works perfectly. 
For hardcore internet browsing such as running cloud-based applications, playing online games, video editing, or streaming video, we recommend an Intel Core i7 for the best experience. However, if you are on a budget, you can go for either a dual-core Intel Core i5 or Core i3 depending on your needs and budget. 
RAM
The Random Access Memory works closely with the processor for faster performance. More RAM means that you can multitask while browsing. For example, you can open several applications or multiple tasks without hurting performance. 
If you are on a budget, you can go for 4GB of RAM. However, for more demanding tasks you will need 8-16GB of RAM. 
Conclusion
We hope this guide will help you find the best laptops for internet surfing without breaking the bank. We did plenty of research and if you buy based on our recommendations, you will most likely get a laptop that clicks with both your needs and budget.