Pros
Elegant design
Great gaming performance
Latest components – RTX 2070
Plenty of storage and speed
Roomy interior, great for expansion
Cons
lacks futuristic ports – USB Type-C
iBUYPOWER Trace 9230 Specs
| | |
| --- | --- |
| Processor | 9th Gen Intel Core i7-9700K 8-Core Processor (3.6GHz) |
| RAM | 16GB DDR4/ 2666MHz (2 @8GB) |
| Storage | 1TB (7200RPM) HDD/ 240GB SSD |
| Graphics Card | NVIDIA GeForce RTX 2070 8GB |
| Motherboard | Intel Z370 Express Chipset |
| Operating System | Windows 10 Home 64-bit |
| Dimensions | 19.48 x 8.54 x 19.76 inches |
| Weight | 30 pounds |
| Ports | 5 x USB 3. 1 | 1x RJ-45 Network Ethernet 10/100/1000 | Audio: 7. 1 Ch. HD Audio | 802. 11AC Wi-Fi + Bluetooth Ready |
| Optical drive | None |
| Cooling | Liquid Cooling |
| Power supply | 500W |
Design and Features
The iBuyPower Trace 9230 isn't an off the shelf, mass-produced desktop. While the chassis and certain internal parts are all branded, they were all handpicked and expertly assembled to create the explosive experience that is the Trace 9230. Design-wise, the chassis is nothing new. We've seen it before across most of the iBuyPower builds with little edits here and there. For our particular unit, however, it borrows its design cues from the iBUYPOWER Trace 9220 Gaming Desktop and iBUYPOWER Elite Slate2 084i which we've recently reviewed.
The common features in these builds is a sturdy built frame and chassis, a gorgeous pane of tempered glass replete with pulsing RGB lighting and four thumbscrews for easy access to the interior. Generally, this is a very attractive machine and when it turns on, it's a futuristic box aglow with a broad spectrum of throbbing lights.
The Trace 9230 comes with a dimension of a mid-tower, at 19.48 x 8.54 x 19.76 inches. Most of the build is metal except the front face which is made of polished plastic. The left side panel is tinted tempered glass while the right is pure metal. Getting inside requires minimal effort as all you have to do is undo four thumbscrews on the left side panel to get the glass off. The HDD bay, power supply, liquid cooling vents, and cables become immediately visible on opening and its clear that there is plenty of space for expansion. The side panel allows the RGB lit interior to shed its light out giving the desktop an aggressive gamer look.
Removable ceiling
A magnetic detachable filter covers the top portion of the ceiling right next to the ports. It acts as a well thought out ventilation system to let out hot air from the processor and the system. Secondly, it acts as a good dust-free airway to let in cool breeze into the system. It's definitely a remarkable way of keeping the system unclogged with dust and running at tip-top shape.
Ports
Just like other desktop brands, iBuyPower includes a complimentary keyboard and mouse with this desktop. The two are standard and won't deliver the sweet, responsive click of a fresh mechanical keyboard or precision of a gaming mouse. For better performance, we recommend going for a full-fledged gaming keyboard and mouse. One of the other major wrinkles with this unit and generally CyberPowerPC PCs is the lack of an optical drive which might not sit well with some users. While the optical drive is slowly being phased out, it still is a valid feature for some users. For this unit, however, you will have to get an external optical drive or download your software online. Some websites like Steam and Origin offer download services for gamers looking to purchase video games from your computer via the cloud.
As far as ports go, the Trace 9230 comes with an almost similar port system as the iBuyPower Trace 9240. The front face flaunts two USB 3.1, microphone and headphones, and a Reset button. Meanwhile, the rear is home to two USB 2.0, two USB 3.1, one RJ-45 Network Ethernet, and Audio 7.1 channel. The graphics card brings to the table a few extra ports including a single HDMI 2.0b and two DisplayPort 1.4, alongside a VirtualLink connector. The HDMI and DisplayPort are essential when setting up a dual/ triple monitor setup.
Other connectivity options include 802.11AC Wi-Fi.
Performance
iBuyPower built the Trace 9230 as the second-highest configuration available. So you can find other options available in the market now such as the lower configuration with i7 8700K processor/ RTX 2070 option and the high-end i9-9900K/RTX 2070 option. Obviously, the high-end i9-9900K configuration is the most powerful configuration available. It includes all the muscle to power through playing most modern AAA titles at 1080p, 1440p and even 4K. But I digress.
Looking at the processor, it's easy to figure out why this is a PC brimming with power. Even while the i7-9900K processor isn't the highest configuration in the 9th Gen family, it certainly brings the power to this system. Both the i7-9900K and the i9-9900K processors are considered the best CPUs in the 9th Gen family with the latter being the company's flagship CPU. Moving on, the Core i7-9900K has eight-cores, 8-thread CPU with a base frequency of 3.6GHz and capacity to overclock to 4.9GHz to make short work of almost any task. Despite having stonking 8 threads, it's Intel's first 9th Gen chip that does not support Hyper-threading which makes it fit the same shoe as its predecessor, the Core i7-8700K.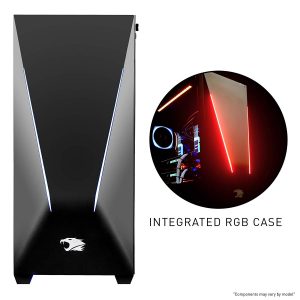 As it is, the i7-9900K excels at video rendering and editing and gaming. The eight cores are great in parallelized workloads and single-threaded performance because of the high Turbo Boost. Generally, games benefit from higher clock speeds than they do from more cores, so they higher speeds help. Moving on, Intel included liquid cooling to step in when temperatures start skyrocketing.
Memory and storage
Working alongside the processor is 16GB DDR4 memory, 1TB mechanical hard drive, and 240GB Solid-state drive storage. In this pinnacle era of PC gaming, 16GB is considered a pretty standard for gaming. The general rule of thumb is, 4GB is nice of modern gaming applications, 8GB recommended to avoid performance issues and 16GB best for AAA gaming titles. You can easily listen to streaming music and live chat on a second monitor at the same time with the 16GB available.
As far as storage goes, we consider 1TB hard drive storage plenty for storing data and storing video games. Meanwhile, the 240GB SSD ensures performance is impressive and consistent as required. It improves boot times and loading of software so that they are short and fluid smooth.
Gaming Performance
The highlight of it all is the Nvidia GeForce RTX 2070 graphics card that our unit comes with. This is Nvidia's new graphics card, with the lowest price and as a result more reach to PC gamers. Out of Nvidia's Turing card, the GeForce RTX 2080, RTX 2080Ti and RTX 2070, the RTX 2070 is the more popular and close to being the most reasonably affordable.
Not only is the RTX the cheapest Turing card, but it also packs more power that allows it to leapfrog it's GTX 1070 predecessor in performance. That means it packs enough muscle to knock on the doors of the high-end GPUs.
Compared to Nvidia'sTuring RTX lineup, the RTX 2070 has significantly fewer Ray Tracing (RT) cores and AI-powered Tensor cores. For that reason, it is the least powerful card in the lineup. However, because there still aren't any real-world ray tracing or deep learning super-sampling (DLSS) benchmarks, we don't yet know how well this GPU will handle Nvidia's latest graphics technologies.
One of its biggest flaws is that the RTX 2070 does not support pairing multiple GPUs through SLI. Nvidia did introduce a new way of pairing Turing cards, one with higher bandwidth (NVLink Bridge connector). The RX 2070, however, doesn't have this new connector which means if you want a multi-GPU setup you will have to spend more for a higher-end Nvidia GPU.
RTX 2070 and Gaming
As I earlier mentioned, the RTX 2070 is the lowest card in the Turing lineup and that also applies to performance. It has the lowest amount of Tensor cores and ultimately the lowest performance of the three in HD gaming and 4K. On the flip side, there is a stark difference compared to its predecessor; the GTX 1070. The RTX 2070 delivers double-digit frame rate increases over the GTX 1070, GTX 1070 Ti and other cards above that. It's without question a remarkable graphics card that puts 4K gaming within reach of mid-range graphics cards.
The RTX 2070 brings Ray tracing and DLSS to the table, features not available on other previous cards. However, since there are no games out yet to leverage this technology, we've yet to see how well it will work on this or any Turing GPUs in a real-world scenario. With that said, we can still measure gaming performance without the new technology.
In real-world gaming scenarios, the RTX 2070 manages good performance on 1080p settings. Few gamers even bother aiming for 4K gaming, as it's simply too demanding. As a result, we focused more on 1080p performance. The RTX 2070 managed 47 fps on 4K very high settings and 153 fps on 1080p very high settings.
| | | | | | |
| --- | --- | --- | --- | --- | --- |
| | Low | Medium | High | Ultra | 4K |
| Battlefield 4 (2013) | 199 | 201 | 200 | 195.7 | 102.3 |
| GTA V 3 (2015) | 166.6 | 153.8 | 135 | 107 | 79 |
| The Witcher 3 (2015) | 297 | 237 | 164 | 89.9 | 64 |
| Rainbow Six Seige (2015) | 316 | 265 | 251 | 240 | 115 |
| Rise of the Tomb Raider (2016) | 262 | 191 | 156 | 130 | 58 |
| Far Cry Primal (2016) | 124 | 111 | 101 | 94 | 59 |
Heat management
One of the Intel i9-9900K's biggest caveat is heat generation. The processor is so powerful, consumes plenty of power and dissipates a lot of heat, especially under load. This means that you need to have a powerful fan to handle the heat, otherwise the CPU will be suffering from overheating issues. Fortunately, iBuyPower included a water cooling solution to handle this problem. One of the other things they did is include a cleverly designed case with improved side panel vents for optimized airflow. The design is neat as it allows accumulated heat to escape therefore preventing heat build-up in the system. This works well with the removable magnetic filter that also acts as a vent for hot air to escape.
The processor comes with a stock cooler, a 120mm fan. If you're planning to game, we recommend changing this to a 240mm fan to better handle the heat.
Our final take
All told, the iBuyPower Trace 9230 is a fantastic value prebuilt gaming PC. It features some of the best components in the industry making it a lethal foe in your corner. Featuring an Intel i7-9700K processor, 16GB of memory, 1TB of storage, 16GB of Optane memory and Nvidia RTX 2070 graphics card the Trace 9230 is simply ready out of the box.
The design and aesthetics are also great which reflects the Trace 9230 clearly has a personality of its own. The distinct tempered glass and LED-lit side panel make it stand out like a sour thumb. It definitely earns high marks for balancing its compact design with end-user serviceability.
Ultimately, we are confident that most buyers would be pleased with this machine. Most especially users looking to get into the world of VR quickly and cheaply. For us, it makes a compelling argument as an entry-level gaming desktop that doubles up as a productivity PC for media creation. As such, it receives our Editor's Choice awards for best entry-level gaming desktop.
Are there other alternatives?
If you're looking for a slightly cheaper option than our unit, the iBuyPowerTrace2 9250 is a great alternative. It features a Core i7-9700F processor, 16GB DDR4 memory, 240GB SSD, 1TB hard drive and Nvidia RTX 1660 Ti graphics card. As for price, it costs around $1000 which is by far cheaper than the Trace 9230.
Buy the iBuyPower Trace 9230 desktop at Amazon