The HP Pavilion 790-0020 Desktop impresses with its improved design and a slew of modern components. The highlight of these components is the Intel Core i5 8400 processor and the Nvidia GeForce GTX 1060 graphics card that brings out its true muscle and performance prowess. It's a great mainstream desktop that doubles up as a home/office system and an entry-level gaming machine.
Pros
Simple upgradeable design
Plenty of ports
Impressive performance
Competitive pricing
Cons
300W limits future upgrades
A hard drive would be great for extra storage
Just a few years ago, a gaming PC was a massive SUV truck of a PC, loaded with multiple graphics cards. The HP Pavilion 790-0020 is the opposite of that thanks to its compact body, that lets you zoom away from the old rig and never look back. It packs a unique set of components that give it its strength and capacity as a video/ photo editing PC and an entry-level gaming rig.
The handsome tower packs a 2.8 GHz Intel Core i5 8400 processor, 8GB DDR4 memory, 256GB solid-state drive storage, and an Nvidia GeForce GTX 1060 graphics card. As seen it offers a good balance of premium components, performance, and pricing which makes it comparable only to a few PCs in its league. Only a few PCs can come close to the value HP Pavilion 790-0020 offers.
Buy the HP Pavilion 790-0020 at Amazon
HP Pavilion 790-0020 Specs
| | |
| --- | --- |
| Processor | 2.8 GHz Core i5 8400 |
| Memory | 8GB DDR4 (2666 MHz) |
| Storage | 256GB SSD |
| Graphics Card | Nvidia GeForce GTX 1060 (3GB GDDR5) |
| Connectivity | 802.11b/g/n Wi-Fi and Bluetooth 4.1 |
| Operating System | Windows 10 |
| Dimensions | 14.8 x 6.1 x 14.4 inches |
| Weight | 18 pounds |
| Warranty | 1 year |
| Optical Drive | DVD-RW |
| | |
Design and Features
The build quality of the HP Pavilion 790-0020 is nothing compared to the head-turning premium aftermarket gaming rigs we've seen in the gaming industry. It's more of a toned-down version of most gaming rigs but with a bit of tasteful modern flair. For the most part, I would say it's a stylish looking pillar made from an all-black metallic case with green accents at its front deck.
The front is textured but it keeps a high-quality look that's reminiscent of its sister the HP Pavilion 790-0010 and HP Pavilion 690-0020 (check on Amazon) While all these PCs look and feel the same, their internals and performance differ a great deal. Our unit ( HP Pavilion 790-0020) improves on performance thanks to a more robust Intel i5-8400 processor and Nvidia GeForce GTX 1050 graphics card. But we'll deal with that later on.
In terms of dimensions, it shares a similar size and weight of its sister the HP Pavilion 790-0010 Desktop. That is, 14.79 x 6.06 x 14.37 inches and 18 pounds. However, the case of the 790 series is a few inches larger than its HP Pavilion 690 series counterpart. Compared to similarly priced competitors, the Pavilion 790 is slightly smaller to the [Ryzen & GTX 1050 Ti Edition] SkyTech ArchAngel Gaming Computer (20.2 x 8.5 x 18.2 inches). But has a larger footprint than the slightly pricier CYBERPOWERPC Gamer Xtreme VR GXiVR8060A5 Gaming PC measures a large 18.46 x 7.87 x 17.89 inches.
Side panels and Interior
The side panels are both metallic with no ventilation opening to allow airflow. That in itself is a problem that might not play well with most, as it might be the reason for thermal flare-ups while the system is under load. Moving on, getting under the hood requires some Phillips head screwdriver experience – but nothing too much to scare the newbies away. A few screws and you're in. Opening the inside is nothing like the gamer themed desktops; there's no nifty visual effect from RGB lighting. Inside is just a cool no-frills ambiance, just like the outside. We loved that HP allowed plenty of space inside for future customization or expansion.
Ports
We appreciate a healthy port system and so HP made us proud with its slew of port options. Stacked at the front deck are 2 USB 3.1 Gen 1 ports, 2 USB 3.1 Gen 2 ports, a single USB 3.1 Gen Type-C, microphone jack, and a single Media card reader. The USB-C carries significantly more power that can be used for charging larger devices like your laptop, phone and battery backup. It also doubles up a fast transfer connector (up to 3Gbps) and unlike other connectors is backward compatible. There is also a DVD-RW drive at the front should you need to burn a CD/ DVD or just run the software and play movies.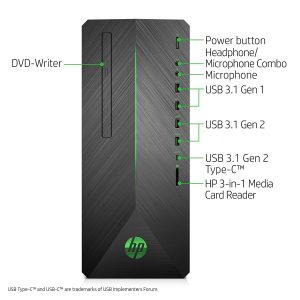 Moving on, the rear houses the bulk of the ports including 2 USB 2.0 ports, 4 USB 3.1 Gen 1 ports, a single HDMI port, DVI port, DisplayPort connector, and a 10/100/1000 Base-T Ethernet network port. The additional ports that come with the GTX 1060 card include the HDMI and DisplayPort are there for external monitor connections. Both allow a double monitor setup for your office or home use.
Performance
In this configuration, HP installed one of Intel's top mainstream CPUs, the Intel Core i5-8400 as well as the Nvidia GeForce GTX 1060 graphics card. Also in the chassis is an 8GB DDR4 memory and 256GB solid-state drive storage. Neither the graphics card nor the processor is liquid-cooled, but the processor does come with an Intel stock cooler to get the thermals down. Generally, it's a good balance of components that are sure to deliver the performance muscle needed for PC gaming.
Read also: Best Laptops for Microsoft Office
One of the most vital features of this configuration is the six-core Intel Core i5-8400 processor, a competing version of the AMD Ryzen 5 2600. This Coffee Lake processor beats the Intel Core i7-7700K from the last generation thanks to the two extra cores it comes with. The six core make it a more viable option for multi-tasking. It's definitely one of the best bang-for-buck processors you can have today honing enough horsepower for everyday tasks, the occasional video editing or Photoshop work and gaming.
Elsewhere, it's important to know that the i5-8400 processor is a six-core processor without hyper-threading. While that sounds bad, most people hardly ever use more than six threads for their day-to-day tasks anyways. It's an unlocked version but it can't be overclocked which means it has a base clock speed of 2.8GHz with the highs of up to 4.0GHz. That speaks volumes about its gaming intentions and capacity.
Ultimately, that means it makes the HP Pavilion 790 an entry-level gaming PC. Compared to its AMD Ryzen 5 2600 competitor, the i5-8400 offers better performance because of its higher-single thread performance. So, you can rest easy with this processor knowing Intel has got you covered.
Upgrade the memory and Storage
Inside the chassis is the 8GB memory and 256GB solid-state drive. Like we've mentioned often in our reviews, 8GB is the baseline standard for memory nowadays. It provides ample performance for most users with run-to-the-mill tasks such as web browsing, MS Office, and some lightweight photo editing. However, if you're planning on handling some professional programs, software, crunching video or playing some recent gaming titles, you might want to upgrade that to at least 16GB. 16GB should give you more than enough space to handle future video editing or audio post-production and gaming.
On storage, the 256GB SSD is mighty important especially for loading the operating system (Windows 10), heavy software, and also booting up the system. While we have no qualms with it, it would be great having some extra room to store data, media files, and some games. For this we recommend a hard drive, a 1TB mechanical drive to be precise.
Gaming Performance
While the price tag of this HP desktop might not hint of a powerful PC, its potency might surprise you. That's all thanks to the Nvidia GeForce GTX 1060 graphics card huddled within. It's notable a step higher than its predecessor's (HP Pavilion 790-0010) Nvidia GTX 1050 card. Essentially, that means it has better graphics performance and AAA games at higher settings. Like the predecessor, it handles games like Overwatch, Counterstrike: Global Offensive and Fortnite impressively and with butter-smooth frame rates. If anything, the GTX 1060 shines at Full HDD and 1440p performance runs quietly and uses incredibly low power.
It's nothing as impressive as the premium GTX 1070 or 1080, however, the GTX 1060 does have performance comparable to the AMD Radeon RX 480. For the most part, the GTX 1060 is undeniably a decent card with the potential to overclock and handle VR content. As a result, you will find it used in many budget gaming desktops. If you were wondering, yes there are other alternatives for this unit.
Are there other alternatives?
Here are a few examples:
Of course, there are other desktops in this price range. Whether that's a good thing or bad thing depend on what you're shopping out for. While most share an almost similar specs list, some have better designs while others better storage options. The CYBERPOWERPC Gamer Xtreme VR GXiVR8060A5 Desktop and Dell Inspiron i5680-5842BLU-PUS Desktop, for instance, have a more appealing design that might impress gamers looking for a themed PC. CyberPowerPC trudges ahead for offering both 1TB HDD and 128GB package for the same price.
Ultimately, the decision boils down to preference and even value system. If you don't mind a less known brand, CyberpowerPC would be great. However, if you do, our unit HP Pavilion 790-0020 is a great option to go with.
Conclusion
There are more than a few reasons why the HP Pavilion 790-0020 makes it to the top of our mainstream desktop and gaming list. First, it's hard to ignore the features it rocks; a solid six-core Intel Core i5-8400 processor, 8GB memory, 256GB solid-state drive, and an Nvidia GeForce GTX 1060 graphics card. The graphics card and processor are the highlight for this PC and together make an impressive combination with a lethal performance for its class. Secondly, you'll be hard-pressed to find such a powerful PC for the price it sells at. If you can find it for less than $800, it is a good deal, certainly one you'll regret passing over.
On the other side, we don't appreciate HP, not including vents for sufficient airflow. Also, the lack of a hard disk drive might be a bit of a damper for data hogs. More emphasis on little because hard disks are an affordable storage option and that's a wrinkle that can easily be fixed in the future.
All in all, the HP Pavilion 790-0020 makes more sense than most mainstream PCs we've reviewed including its sister the HP Pavilion 790-0010 (with Nvidia GTX 1050, i3-8100 processor and 1TB HDD). Of course, there are other alternatives at this price range as the comparison table shows. For instance, if you care for gamer design and aesthetics, the CYBERPOWERPC Gamer Xtreme VR GXiVR8060A5 Desktop and Dell Inspiron i5680-5842BLU-PUS make more sense. However, if that's not the case, Bottom line, the HP Pavilion 790-0020 is a great choice for you.
Buy the HP Pavilion 790-0020 at Amazon