The Eluktronics N850HP6 Pro-X Premium Gaming Laptop design isn't the best we've seen around and its right-angled jugged edges give it a rugged feel that appeals to some – while may turn away others. Regardless, it's quite a good machine, to say the least. It sports an Intel 7th Generation Intel Core i7 processor, plenty of screen estate, 16GB RAM, 256GB solid-state drive and 6GB Nvidia GeForce 1060 GPU which register non-compromising performance. Further, the wide selection of configuration options gives the buyer sufficient freedom to buy according to their needs. Bottom line – a powerful gaming notebook for a steal.
Pros
Ample screen estate that's great for working.
Fast Quad core i7 processor
Excellent performance
Decent battery life
Cons
USB Type-C doesn't support Thunderbolt
No Optical Drive
Fingerprint magnet
The Eluktronics N850HP6 Pro-X Premium Gaming Laptop (N-series) isn't the thinnest or the most aesthetically appealing gaming laptop in the market – neither is it the most powerful. But it's got quite a lot to offer nonetheless. Now, a little about the brand. Eluktronics borrows its chassis from Clevo, the Original Design Manufacturer (ODM) giant, which specializes more with hardware and performance rather than aesthetic – choosing to give this particular brand a rugged muscular feel. The specs, however, reveal where much of the focus went. It's got just the right specs to get most gamers drooling over it, and that's why we love it. Stick around to the end and let us explore its intricacies
Buy the Eluktronics N850HP6 Pro-X at Amazon
Eluktronics N850HP6 Pro-X Specs
Processor
Intel Core i7-7700U | Quad-Core | 2.8 – 3.8GHz | 6MB L3 Cache
RAM
16GB DDR4 2400MHz RAM (1 Dimm)
Display
15.6" Full-HD (1920×1080) | IPS | Matte
Internal Storage
256GB PCIe NVMe M.2 SSD
Graphics Card
NVIDIA GeForce GTX 1060 | 6GB GDDR5 VRAM
Ports

1 HDMI output Port (with HDCP)
2 Mini DisplayPort 1.2 Output Ports
1 USB 2.0 Port
1 USB 3.0 Port (Type C)
2 USB 3.0 Ports
1 Headphone Jack, 1 Microphone Jack
6-in-1 SD Card reader

Operating System
Windows 10 Home 64-bit
Webcam
2.0MP Full HD Webcam and Array Mic. Mic supports Windows 10 Cortana Voice Command
Audio
Sound Blaster Cinema 3 with Onkyo Speakers
Battery
6-Cell 62Wh Lithium-Ion
Dimensions
14.88 x 10.51 x 1.17 inches
Weight
4.9 lbs
Security
TPM 2.0 | Kensington Lock
DESIGN AND FEATURES
With a brushed and shiny plastic unibody chassis, the Eluktronics N850HP6 Pro-X looks more like an ordinary laptop than a gaming PC – that's until you turn it on. It won't drop your jaws with intergalactic themes but it sure compensates that with performance. This Eluktronics unit only comes in a single color, unlike other brand names that often are released with two or more colors available.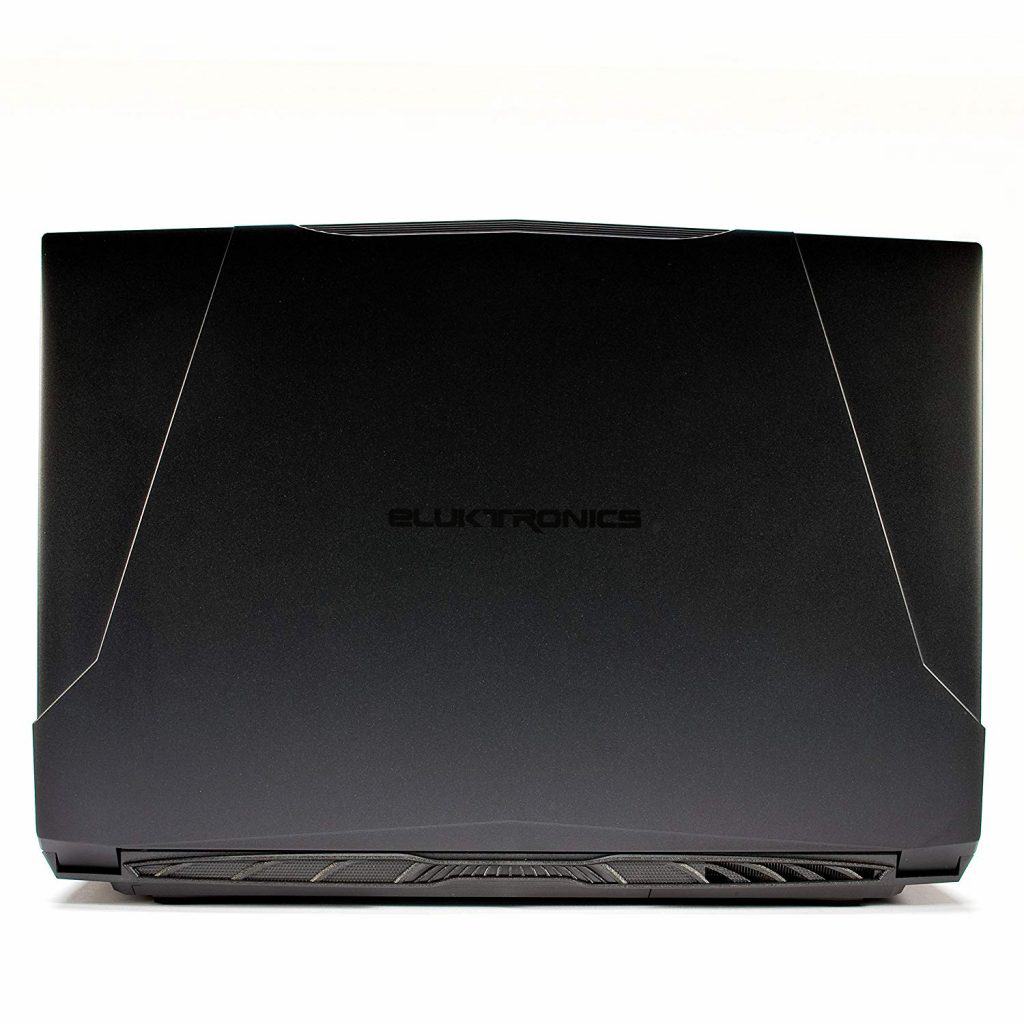 The build feels solid, a little flex on the thin screen frame but overall great. It's one laptop you can carry around to the office or for coffee without it necessarily screaming gamer. It's 15.6 inches Full-HD IPS display is as joy. With an Anti-Glare finish and a resolution of 1920 x 1080 pixels, color depth and vibrancy is quite decent. Further, it has a 72% NTSC color coverage and a 60Hz refresh rate in addition to having a bright enough screen for outdoor use.
Full HD Display
Other 15.6-inch gaming laptops that may interest you include the Eluktronics N850HK1 Pro, Acer Predator Helios 300, Eluktronics P650HP6 laptop and ASUS FX502VM-AS73. All these laptops including our reviewed unit offer Full HD display, 16GB DDR4 RAM, some SSD and HDD storage and Nvidia GeForce GTX 1060 graphics unit. Of the four, the Acer Predator Helios 300 is the most aesthetically appealing in our estimation, with the ASUS FX502VM-AS73 following closely behind.
Update: There's a 17.3-inch version of this laptop named Eluktronics N870HP6 Pro-X that offers a better display and overall performance. It slightly better than the Acer Predator Helios 300 but costs about $100 more than the Predator Helios 300. The Eluktronics N850HP6 Pro-X is the same as Sagers's NP7850.
Dimension-wise, the Eluktronics N850HP6 Pro-X measures 14.88 x 10.51 x 1.17 inches and weighs 5.9lbs – which is within acceptable limits for a gaming rig – in fact only 400 grams heavier than some ordinary desktop replacement laptops in the market. In addition to that, it compares quite favorably with other gaming laptops – for instance, the Acer Predator Helios 300 (15.35 x 10.47 x 1.05 inches).
Plenty of Ports
There are two USB 3.0 ports, one USB 2.0 port, one USB 3.1 Gen 2 port (Type C), an HDMI (with HDCP) port and two Mini DisplayPort. Additionally, there is an RJ-45 Ethernet port, a headphone jack, a microphone jack and finally an SD Card Reader for data transfer and act as a secondary storage device. The one glaring downside with the port system is that the USB Type-C does not support Thunderbolt. This disadvantages users because then a Thunderbolt docking station can't be used to minimize the number of connections required for multiple monitors – no daisy-chaining here.
The bright side is this problem may not affect all users since not everyone uses multiple external displays. In summary, connectivity is excellent despite the lack of a Thunderbolt port. Security features include a TPM 2.0 (Trusted Platform Module) and a Kensington lock slot.
Speakers
The Sound Blaster Cinema 3 with Onkyo speakers, on the other hand, provide respectable sound quality and volume – sufficient to fill a small room. However, they may not match up to the quality of premium brand laptop speakers. Also, it's worth mentioning that there is no optical drive on this laptop, hence you will have to find other alternatives to handle software installations – perhaps use a flash drive or an external drive for that.
Webcam
The 2.0MP Full HD Webcam is nice and sharp though we weren't particularly impressed with their color accuracy. While images are discernible and clear, they didn't stand out strikingly. But to be fair, the camera is generally quite alright in our opinion – good enough for Skype and other social webcasts.
Great Casual and Gaming Performance
The N850HP6 is armed with an Intel Core i7-7700HQ (Quad-Core, 6MB L3 Cache) processor which advances a 2.8 GHz base clock speed and a turbo speed of up to 3.8GHz. enjoys ). Additionally, it comes with 16GB DDR4 RAM, which is plenty for multitasking between your homework, background music, and web browsing. You can also have up to 25 tabs open in Chrome while watching 1080p video on Twitch or YouTube without experiencing lag. Moving on, the highlight for this machine is that the 16GB RAM sits on one slot leaving an empty 2.5" HDD/SSD SATA III interface slot should you need to expand. (Caddy & Mounting hardware included!)
Ample Storage
There is a decent amount of storage as well – 256 solid-state drive (SSD) for our unit (256GB Eluktro Pro-X Ultra Performance PCIe NVMe M.2 SSD). The SSD is especially a good choice for booting up the system fast and handling software with flair. On the other hand, you can opt for the 1 TB configuration if your needs are better tuned towards volume over speed.
Users with the need to store files, data, music, and movies might find this configuration very handy. The Eluktronics N850HP6's NVIDIA GeForce GTX 1060 is a great choice for this laptop. Thanks to the Nvidia 1060 GPU, Eluktronics brushes should with some of the best gaming laptops in the industry. The Sager NP8172, Clevo P670RP6, ASUS ROG GL702, and MSI GE72VR Apache Pro are just a few such with a with Nvidia GTX 1060 graphics. Since the GPU is a graphics card for high-end gaming laptops, it comes with respectable gaming excellence. On our gaming run-down test, it blazed through some recent titles with generally impressive results.
| | | |
| --- | --- | --- |
| Dirt 4 2017 | Ultra 1920 x 1080 | 55fps |
| Rocket League 2017 | 3840 x 2160 | 65 fps |
| Prey 2017 | Ultra 1920 x 1080 | 102 fps |
| For Honor 2017 | Ultra 1920 x 1080 | 65 fps |
Most of the games play well above 90 fps on high 1920 x 1080 settings, above 60 fps on ultra 1920 x 1080 settings and moderately well on 3840 x 2160 settings. We consider anything above 60 fps very playable.
Benchmarks
Eluktronics N850HP6 15.6 Pro-X Gaming Laptop Benchmarks
We ran a few more gaming tests and this what we came up with:
CPU Benchmark 89 – Core i7-7700HQ
GPU Benchmark 89 – GTX 1060
| | | | | |
| --- | --- | --- | --- | --- |
| | Low | Medium | High | Ultra |
| Witcher 3 | 176 | 122 | 71 | 38 |
| Rise of the Tomb Raider | 164 | 119 | 70 | 57 |
| Crysis 3 | 154 | 137 | 104 | 51 |
| Battlefield 4 | 201 | 183 | 170 | 83 |
| Overwatch | 282 | 267 | 176 | 101 |
Input devices
The keyboard layout is standard but comes with RGB Backlighting with a 10-key numeric keypad. The individual keys give a quiet click when typing and the RGB lighting can be dimmed or turned completely off with dedicated keys. The backlight seems to be divided into three color schemes on the keyboard and the lighting evenly distributed throughout the board. As a result, it is easier to game or type in a dimly lit room.
The touchpad, on the other hand, is also responsive to touch and gestures like two-finger strokes. That makes zooming in and out of images a cinch.
Battery life
The battery on the Eluktronics N850HP6 Pro-X lasts a cool 6 hours with light work and with the NVIDIA GPU off. Gaming on the PC cuts the lifespan down to a mere 4 to 5 hours, which is fairly common among gaming rigs. The N850HP6 Pro-X is powered up by a 180 Watt AC Adapter. Further, the 6-cell 62Whr battery can be can accessed by removing the back panel.
Configurations
---
Worth every buck
The Eluktronics N850HP6 Pro X's brushed plastic design does not stray far away from the Eluktronics brand, it's boxy with straight cut corners and a subtle gamer appeal. It is nonetheless a powerful VR-ready gaming machine with a lot going on for it thanks to a feature-packed system. I'm talking about Intel 7th Generation Intel Core i7 processor, plenty of screen estate, 16GB RAM, 256GB solid-state drive and 6GB Nvidia GeForce 1060 GPU. Also, just like the Acer Predator Helios 300 with an upgradeable system, the Eluktronics N850HP6 Pro-X Premium Gaming Laptop has a couple of configurations available to cover that.
So, should you consider the Eluktronics N850HP6? Well yes. The PC is a great gaming PC with plenty of good hardware to back it up. If you don't mind brand names or laptops without generic parts, you should consider this unit. It is ultimately a good package deal with great bang for buck ratio.
Update: There's a 17.3-inch version of this laptop named Eluktronics N870HP6 Pro-X with better performance, display, and brightness. It slightly better than the Acer Predator Helios 300 but costs about $100 more than the Predator.
Also worth considering is the newly released Acer Predator Helios 300 with similar specs and price range especially if you're into gamer aesthetics. While the Acer Predator offers comparably better performance at a slightly cheaper price, the Eluktronics N850HP6 Pro-X Premium Gaming Laptop follows closely behind.
See the Eluktronics N850HP6 Pro-X at Amazon