The CyberpowerPC Gamer Xtreme VR GXiVR8500A is an expertly crafted, budget-minded entry-level gaming PC. It shines for its good selection of components, attractive build quality, sufficient amount of ports, and performance advantage. Simply put, it is a professionally-built platform for gaming and one that sells at an affordable price.
Pros
Simple but unique design with side panel
Upgradeable chassis – spacious
Competitively priced
Easily accessible interior -toolless case
Healthy ports system
Cons
It's the best time ever to be playing PC games, but you need the best gaming PC to be able to take advantage of it. Thankfully, there are more than a few options available especially now that there are more manufacturers churning out prebuilt systems. And the best part is, if you don't know how to build it yourself, you don't have to learn how to do it because there's someone else out there doing the grunt work.
I love CyberPowerPC for being that kind of manufacturer. The CyberpowerPC Gamer Xtreme VR GXiVR8500A we review today is one prebuilt gaming PC that sells for less than DIY prices. Inside it's equipped with some of the most recent hardware: an Intel Core i5-9900F processor, 8GB of RAM, NVIDIA GeForce GTX 1660 Ti (6GB) graphics and 120GB SSD/1TB HDD. With the latest iteration of components, it sets the standard high for entry-level gaming PCs. You'll be hard-pressed finding a better PC with gaming performance and muscle for daily productivity at its price range.
Buy the CyberpowerPC Gamer Xtreme VR GXiVR8500A desktop at Amazon
CyberpowerPC Gamer Xtreme VR GXiVR8500A Specs
| | |
| --- | --- |
| Processor | Intel Core i5-9400F 2.9GHz 6-Core |
| RAM | 8GB DDR4 |
| Storage | 120GB SSD/ 1TB HDD (7200PRM) |
| Graphics Card | NVIDIA GeForce GTX 1660 Ti 6GB |
| Motherboard | Intel B360 Chipset |
| Operating System | Windows 10 Home |
| Dimensions | 18.5 x 7.9 x 17.9 inches |
| Weight | 26.3 pounds |
| Ports | 6 x USB 3.1 | 2 x USB 2.0 | 1x RJ-45 Network Ethernet 10/100/1000 | Audio: 7.1 Channel |
| Networking | 802.11ac Wi-Fi |
Design and Features
At 18.5×7.9×17.9 inches (26.6 pounds), the CYBERPOWERPC Gamer Xtreme GXiVR8520A has is on a similar threshold with the CYBERPOWERPC Gamer Xtreme VR GXiVR8500A. Dell's Inspiron i5680-5842BLU-PUS desktop (17.23 x 8.5 x 18.07 inches) is a bit heavier considering it hits 30.27 pounds. There is no optical drive but it is an okay trade-off given these days you're more likely to download your PC games online from Steam or Origin.
Connectivity: Lacks USB Type-C
Along the top front edge of the CyberPowerPC Gamer Xtreme, you'll find two USB-A 3.0 ports, audio and headphone jacks, and a power button. These are well placed to facilitate easy and reachable connection to all your favorite devices. It's a very considerate position for ports considering if they were at the bottom of the chassis, you would have to kneel to reach them, especially if your ideal place for your PC is under your desk.
Around the back is home to the other ports as well; the bulk of the port system. You'll find an Ethernet jack, two legacy PS/2 (USB 2.0) ports, audio and headphone jacks, and video output ports, including DisplayPort and HDMI connections. The USB 2.0 ports are essential for connecting to the complimentary keyboard and mouse CyberPowerPC offers alongside the desktop. Overall, it's a healthy port system save for the fact that there is no USB Type-C port. This is where CyberPowerPC should have done better so the PC remains relevant for a few more years. However, it is not such a bad tradeoff, since it does not directly affect performance.
Performance
For those who wish for a powerful machine, the CyberPowerPC Gamer Xtreme is a potent system thanks to an Intel Core i9-9900K processor. This is a seriously powerful CPU, with eight threads, 16 cores, and a base clock speed of 3.6GHz. There's also a healthy 8GB of memory, 120GB of solid-state drive storage that acts as the boot drive and 1TB hard drive as the additional storage space.
Still, on processors, the Intel Core i9-9900K is simply the fastest gaming processor in the market as of writing this review. It packs some serious heat as a result of the 8 cores, 16 threads available inside. Under normal base clock speeds, it runs at 3.6GHz and can max out at 5.0GHz while on Turbo; the highest frequencies we've seen in the mainstream space.
Just like the 6 core i7-8700 processor on its sister, the CyberpowerPC Gamer Xtreme GXiVR8520A desktop we reviewed, the i9-9900K has different speeds for separate cores. It easily ramps up around 4.7GHz under all-core loads and 4.8 – 4.9GHz for rigid single-core tasks. Which, is more or less pretty quick, certainly faster than most processors in the market. Because of this one aspect, this Coffee lake refresh processor emerges as the strongest in the contentious battle for desktop supremacy. And because of it, our unit is much stronger and performs better than the CyberpowerPC Gamer Xtreme GXiVR8520A desktop. The extra cores make this PC an absolute powerful PC for video rendering and Photoshop because of this hyperthreading capacity.
| | | | | | | | | | |
| --- | --- | --- | --- | --- | --- | --- | --- | --- | --- |
| Base | 1 Core | 2 Cores | 3 Cores | 4 Cores | 5 Cores | 6 Cores | 7 Cores | 8 Cores | |
| Core i9-9900K (GHz) | 3.6 | 5.0 | 5.0 | 4.8 | 4.8 | 4.7 | 4.7 | 4.7 | 4.7 |
| Core i7-9700K (GHz) | 3.6 | 4.9 | 4.8 | 4.7 | 4.7 | 4.6 | 4.6 | 4.6 | 4.6 |
| Core i7-8700K (GHz) | 3.7 | 4.7 | 4.6 | 4.4 | 4.4 | 4.3 | 4.3 | – | – |
The extra cores make this PC an absolute powerful PC for video rendering and Photoshop because of this hyper-threading capacity.
Memory and storage
Since the Gamer Xtreme is built as a workhorse for video editors, creative professionals, and gamers, it requires to handle plenty of demanding tasks at ago. That translates to plenty of memory to handle such workloads as well. CyberpowerPC continues its winning streak thanks to ample memory. You get 8GB DDR4 memory which is more than sufficient for the above tasks and more. Well, you can also upgrade to 16GB memory to handle more intensive workloads but as it is, it should handle less demanding tasks like word processing and web browsing with aplomb.
Getting a speedy Solid-state drive (SSD) over the creaky mechanical hard drive is what most experienced PC users prefer to do. But while SSDs are fast, their costs can overbearing and at the end of the day might not provide enough space for storage. Fortunately, for this unit, CyberPowerPC did us a solid by including both SSD and HDD in the package. You get 120GB NVMe solid-state drive coupled with a larger 1TB hard drive to house larger files. The 120GB SSD isn't the best in the industry but all the same, it's great having it on board. Both should work well in giving the best experience for your games, files and other documents.
Gaming Performance
In keeping up with the best-in-class features, CyberPowerPC included the new Nvidia GTX 1660 Ti graphics, one of the best and affordable graphics cards in the Nvidia Turing lineup. The Nvidia GeForce GTX 1660 Ti is like all other Turing architecture (TU116 chip) but is exceptional for hitting the sweet spot for price and performance. Unlike its counterparts (the faster RTX 2000 cards), the 1660 Ti cuts out Ray Tracing and Tensor cores, that power the RTX and Deep Learning Super Sampling (DLSS) technologies, from the equation.
Nonetheless, even without the sacrificed features, it rises out as a great performing card that's made even better thanks to its budget price tag. Compared to its predecessor Nvidia GeForce GTX 1060, the GTX 1660 Ti card offers up to' 1.5X faster performance which is remarkable for gaming and intensively graphics workloads. That's all thanks to its support for VR and architectural enhancements such as higher clock speeds, and more shader cores, than last year's GTX 1060 (6GB) GPU.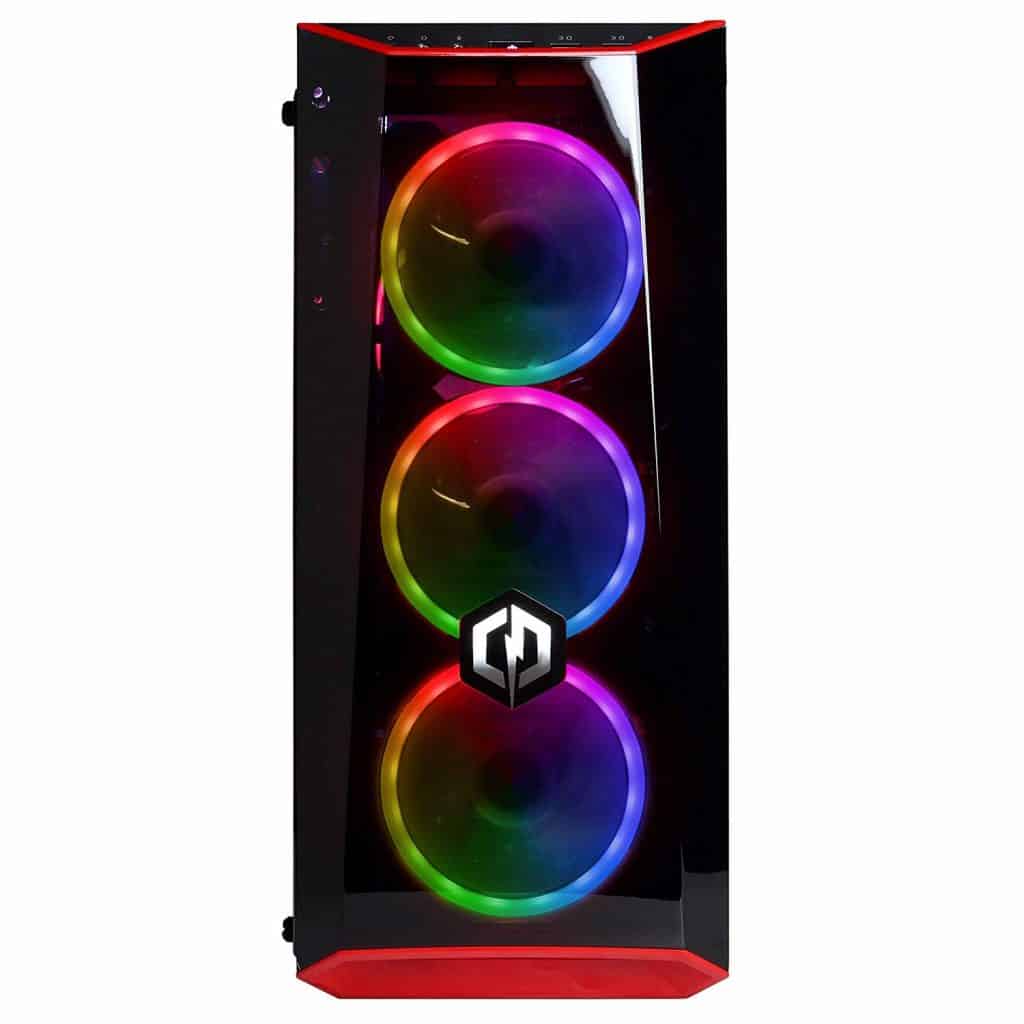 In real life gaming, both the Nvidia GTX 1660 Ti and i9-9900K processor make a lethal combination. There is significantly more power in this union than most other unions because it enables the PC play AAA title at 1080p/1440p with 50-60 frames per second. On Hitman 2 2018, it managed 94 fps at 1080p and ultra settings. Battlefield V 2018, it maintained a 95 fps on the same settings while Ghost Recon Wildlands the frames dropped to 72 fps on 1080 ultra settings.
Decently crafted and Performance Ready PC
CyberPowerPC is well known for its brightly lit desktop PCs and they don't shy away from the glitz and glamour. Whether that's a good or bad thing is subject to preference. But from where I stand, the CyberpowerPC Gamer Xtreme GXiVR8500A has an attractive build and the RGB lights are a boon when it comes to gaming. Other highlights you might love include a clean wiring job, modest cooling, component expansion and of course affordable price point.
If you're looking to get into gaming, the CyberpowerPC Gamer Xtreme VR GXiVR8500A is aimed at you. It's an intriguing PC built for gaming (thanks to the i9-9900K, the fastest mainstream processor on the market and GTX 1660 Ti graphics) and for other offices/home productivity (video rendering and Photoshop included) computing tasks. We recommend it to power-crazy media professionals and entry-level gamers on a budget.
Buy the CyberpowerPC Gamer Xtreme VR GXiVR8500A at Amazon