Landing a good role in the corporate world requires some skills and if yours is business you need a business degree. For the purpose of this article I will focus more on Finance Major students who have to hone their financial accounting skills, perhaps get savvy with capital and money markets, investment and risk assessment and the likes. Admittedly, I was a business school student myself but never pursued it further than the degree. However, if your dream is maybe someday become a Chief executive officer, financial manager or credit analyst, you have to prepare as a Finance Major student.
Because of the nature of the course work as Finance majors, which involves a lot of online research some campus library webpage research and textbooks, the work bulky. And because it sometimes has to be done simultaneously, it can be tedious for both the student and the laptop. That means multiple tabs open at any one time. So you need a laptop that can handle multi-purpose workloads and multitask fluidly. That brings us to today's question; What is the best laptop for Finance Majors?
While the course work doesn't require using heavy applications or software like engineering or architectural coursework does, it still would be helpful in finding what laptop fits this niche.
We'll start off with our best list of premium laptops then later some options of the more mainstream laptops finance student majors can own on a budget. While compiling this list we used our general rule of thumb in choosing these laptops was a slimline design, long battery life and value for money. Most of these listed laptops bring a tasteful design into the mix, have cutting edge features for fast and reliable modern workplace workloads and great battery life. All of them come with the professional version of Windows 10.
We'll start off with our best list of premium laptops then later some options of the more mainstream laptops finance student majors can own on a budget.
Here's our full list of best laptops for Finance Majors
1. Lenovo ThinkPad X1 Carbon – Best battery life
The Lenovo ThinkPad X1 Carbon is yet another premium laptop meant of the business-minded users. It's soft touch chassis, premium design, incredible battery and price tag make it more of a status symbol than a workhorse.
The laptop market is filled with ultraportables with almost vanishing bezels like the Dell XPS 13 and HP Spectre 13 ( which users love). Lenovo, however, went for a slightly chunky design with its carbon fiber black chassis giving the laptop an elegant touch and durability.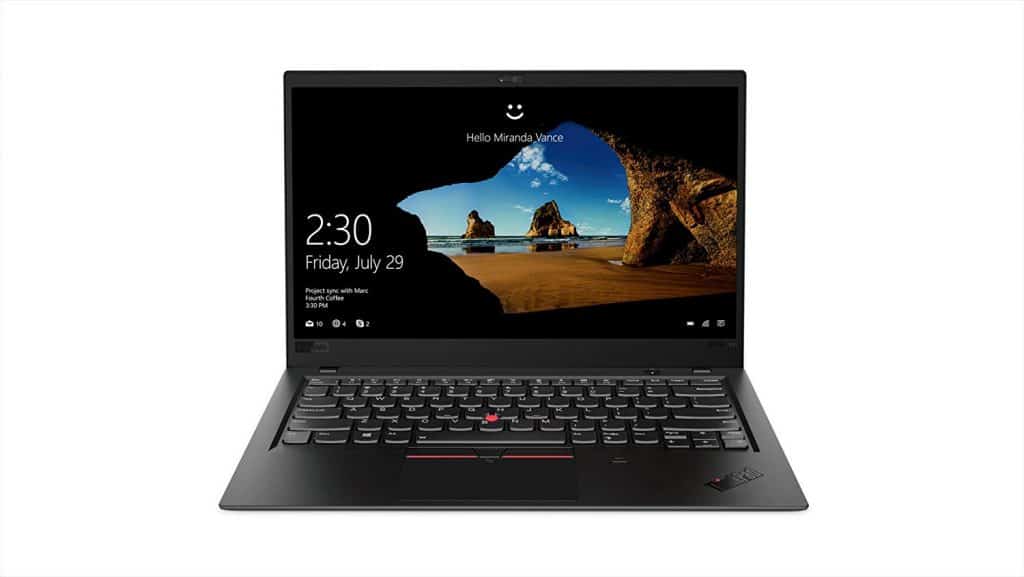 Standing at 12.7 x 0.6 x 8.6 inches, 2.49 pounds, the Lenovo ThinkPad X1 carbon doesn't fall too far away from its predecessors in terms of size. If anything, the 2018 model is thinner and smaller in design for portability. That aside, what we absolutely loved is its battery capacity. It holds charge for nothing short of 15.5 hours which makes it a great productivity machine for class work.
Also, thanks to a rapid charging feature, the battery can charge to 80% in an hour. Lenovo also fit in their legendary keyboard that ThinkPads are commonly known for. That means if you're one to write your class notes on your laptop, the keys should be comfortable enough for long typing hours.
Pros
Premium design and build
Thin and lightweight
Great battery life
Quick charging battery
Great performance
Great keyboard
Cons
High price tag
No Ethernet port
Average sounding speakers
Lenovo ThinkPad X1 laptop Specs
| | |
| --- | --- |
| Display | 14 inch Full HD (1920 x 1080 ) IPS Touchscreen |
| Processor | Intel Quad Core i7-8650U (8M Cache, up to 4.00 GHz |
| Memory | 16GB DDR3 |
| Storage | 512 GB SSD DDR3 |
| Graphics Card | UHD Graphics 620 |
| Measurements/ weight | 12.7 x 0.6 x 8.6 inches / 2.49 lbs |
Verdict
When all is said and done, the Lenovo ThinkPad X1 Carbon makes a lightweight option for high-end laptops. This ultraportable is lightweight making it easy on your back and commute to college/school. Lenovo threw few features Lenovo threw in making it a more pleasant laptop to own for finance major. You have a touchscreen display, bright screen (matte or glossy – depends on your choice), plenty of memory for multitasking and storage.
The 8th Gen processor is great for heavy workloads and combined with the other features can handle intensely graphics tasks and programs. The bright side is that you can upgrade the memory and hard drive storage in the future. For this reason, it can handle most common computing tasks with aplomb so we recommend it as our go-to-laptop for finance majors and the business community.
Related: Best laptops for Microsoft Office 
2. Dell XPS 15 2-in-1 laptop
For the Dell XPS 15 2-in-1 laptop, it's a classic case of luxury meeting power. The Dell XPS 15 is considered one of the most premium laptops in the mainstream laptop scene. Even while still at the top of its high tide, in 2018 Dell took the Dell XPS 13 and redesigned it to the Dell XPS 15 making it convertible. So why does the Dell XPS 15 2-in-1 laptop fit as a suitable laptop for finance majors?
Well, on top of fitting other niches like gaming and as a business laptop, the Dell XPS 15 2-in-1(Dell XPS9570-7996SLV-PUS ) is a great laptop for finance students too. That's owing to a host of updated features including an 8th Gen processor with AMD Vega graphics, plenty of memory (8GB) and storage (256GB SSD). The Lenovo Yoga 920 with 8th Gen Intel i7-8550U, 4K display, 16GB RAM and 512GB SSD is one of the few laptops that can compare to this unit. But I digress.
The processor and memory are more than capable of handling anything thrown at them. That means a couple of tabs running simultaneously shouldn't cause any hiccups. Also if you're running software like Quickbooks, while multitasking on other apps, the system won't be bogged down. In essence, one can run Ms.Office while listening to music and browse the web with little to no trouble.
We also loved the plenty of ports available given the laptop's size. Dell fitted two Thunderbolt 3 and two USB-C 3.1 – all of which support charging and DisplayPort. There's a microSD card reader and headset jack too. Other aspects you might love include the nearly bezel-less screen and full HD display. The one caveat we found was the price which might be a bit high for some and lack of touchscreen like the one found on the 15-inch MacBook Pro.
Pros
Impressive power
Great design
Price starts on the higher end
Hybrid (2-in-1)
Great tactile keyboard
Thin and lightweight body for its size
Cons
High price tag
Runs loudly
Dell XPS 15 2-in1 Specs
| | |
| --- | --- |
| Display | 15.6 inch Full HD |
| Processor | 8th Gen Core i7-8750H |
| Memory | 16GB DDR4 |
| Storage | 512GB SSD |
| Graphics Card | Nvidia GeForce GTX 1050Ti |
| Measurements/ weight | 9.3 x 14.1 x 0.66 inches/ 4.41 lbs |
Verdict
Considered as the smallest and thinnest 2-in-1 laptop of its size, the Dell XPS 15 2-in-1 is an impressive laptop. It packs enough oomph to power it through most tasks including gaming. Thanks to its modern 8th Gen processor, 16GB Ram, and storage, it qualifies as a great option for the best laptops for finance majors. The battery life is decent but you will have to contend with the loud noise as the laptop runs.
If you're on a budget, the Lenovo Yoga Book is a laptop from the future here to solve your financial tasks. It packs the most advanced design we've seen in a laptop lately. The virtual HALO keyboard and the ingenious writing surface are a clear indication that Lenovo is still leading the way of pushing boundaries. There is no physical keyboard, just a fancy virtual one with illuminated, futuristic-looking keys that look as though they've been pulled straight from a Sci-fi movie. But the chief highlight better yet is that the virtual keyboard into a full-blown, electromagnetic resonance (EMR) writing surface, allowing you to draw or scribble down notes. Simply put, you can write all your class notes or scribble just as you would on a notepad.
Users who appreciate small form factor systems will appreciate the diminutive design of the Yoga Book. In essence, the entire system measures 10.1 x 6.7 x 0.4 inches and weighs a lightweight 1.71 pounds. With such dimensions, it easily is an incredibly thin and light Windows laptop.
Brilliant display
As much as the display is brilliant at Full HD (1920 x 1200), it still isn't the most visually arresting part of the Yoga Book. The keyboard still keeps that title intact. Our unit is Full HD but you can opt for a 2560 x 1600 resolution display.
Performance
As mentioned before, the keyboard shines above anything else in this laptop. The Yoga BooK comes with a pressure sensitive drawing surface that doubles up as the keyboard and palm rest. There are no physical keys so you might have to get used to the absence of key travel and click sound. The keys are flat and virtual with remarkably fast response time and haptic feedback. However, you wouldn't want to write a novel on the Yoga Book. It's best for typing a few sentences and making short notes or even a few sketches. The really sweet thing about the keyboard is that the keys vibrate on touch and you can choose to minimize the keyboard to make room for the touchpad.
Moving on, the other highlight of this system is the processor and memory. The Lenovo Yoga Book brags of an Intel Atom x5-x5-Z8550 processor, and 4GB memory which unfortunately is its two major downsides. As it stands, these components force this laptop to only be capable of light duty tasks such as taking notes, web browsing, and office productivity. What this means for users is they will have to live with lackluster performance.  With that, you can rule out gaming or any graphics intensive task and application. However, it's not such a bad thing if you're a student on a budget.
Pros
Great design with futuristic characteristics
The virtual keyboard is accurate
The display is excellent – Full HD
Insanely thin and light
Clever Create Pad
Affordable price tag
Good battery life – 7 hours
Cons
Typing on the keyboard doesn't feel natural
Dated microUSB port
Sluggish performance
Lenovo Yoga Book Specs
| | |
| --- | --- |
| Display | 10.1 inches Full HD (1920 x 1200) |
| Brightness | 220cd/m2 |
| Processor | Intel Atom x5-Z8550 Processor |
| Memory | 4GB RAM |
| Storage | 64GB SSD |
| Graphics Card | None |
| Measurements/ weight | 10.1 x 6.7 x 0.4 inches/ 1.52 lbs |
| Battery life | 7 hours 22 mins |
Verdict
If your taste for laptops is futuristic and 22nd century, the Lenovo Yoga Book is a brilliantly crafted and forward-thinking concept of a laptop. Honestly, it could very easily create a subcategory of its own because there is none at the moment. Inside, it packs middling features which hold it back against tablets. Overall, if you don't mind the sluggish components (Intel Atom x5-Z8550 Processor and 4GB RAM), the Lenovo Yoga book is a great companion for school. It should allow you a snappy Windows experience, switching between apps and feature-rich websites. You will also appreciate its note-taking capabilities, extremely thin and lightweight body and affordable price. It's a unique machine which you will love for its diminutive form factor.
The Chinese made Huawei MateBook X Pro offers several compelling reasons to buy it: a great display, a good keyboard, terrific audio, and even an included USB-C dock. But chief among its features, one that makes it join the best laptops for Finance majors ranks, is the sturdy polished build, lightweight body, 8th Gen processor and memory. To say the least, the Matebook X Pro comes in a complete irresistible package. You'll find it for a budget price and with plenty of ports for connecting your devices.
For those who have no idea, the Matebook X Pro is a refresh last year's flagship Huawei X Pro which made it to our best laptop 2018 list. Although the sequel fails to improve on its predecessor, it still packs enough to wow a crowd. This new entry laptop includes an 8th generation Intel Core i5-8550U processor with Intel UHD Graphics 620, 16GB of memory and a 512GB SSD of storage.
The MateBook X Pro comes with a gorgeous display, with rich and vibrant colors. It brags of a 3000 x 2000 screen resolution which is a boon for just about any digital professional and anything in between. The story gets a bit rosier when it gets to performance. The MateBook X Pro flaunts an Intel i7-8850U processor, a reasonable upgrade from the Core i5-8250U from the flagship laptop. All the components come together to make a laptop with a good balance of function and form. That's not forgetting the healthy port system which has the futuristic Thunderbolt 3 USB-C port. If you're looking for a high-end slash classy laptop that can handle your finance projects and anything in between, the MateBook X Pro makes a veritable bargain.
Pros
Sleek thin design
Futuristic ports – USB-C
Bright screen thanks to 3K display
Great performance
Competitively priced
Includes Matedock accommodates legacy devices
Cons
Average battery life
Low power MX150 discrete GPU
Specs
| | |
| --- | --- |
| Display | 13.9-inch 3K touchscreen IPS display Panel |
| Processor | 8th Gen Intel Core i7 8550U processor |
| Memory | 16GB DDR4 |
| Storage | 512GB SSD |
| Graphics Card | NVIDIA GeForce MX150 |
| Measurements/ weight | 11.97 x 0.57 x 8.54 inches/ 2.93 pounds |
Verdict
There are more than one welcoming aspects of the Huawei MateBook X Pro. The aluminum body with nice finish touch and diamond cut edges is certainly one of them. The slim and lightweight figure another and the high-end components the third. But the MateBook X Pro performance puts it on the same playing field with Apple's MacBook Pro. No matter what you use it for, you will be happy about it. But it takes a top spot as a productivity machine for finance major students and other professionals.
Update: There are other finer details that we did not mention about the Huawei MateBook X Pro. And we wouldn't be doing it justice if we don't mention them. Just so you know, the MateBook also features a deep-and-punchy keyboard that's great for typing and a large sensitive trackpad with Microsoft's Precision Touchpad technology. For sound, there are four down-firing speakers with excellent sound quality and a fingerprint sensor available for all your biometric secure logins.
The Dell XPS 13 is a top tier laptop that wears many hats. It's a perfect fit for our best laptop for finance majors list among other uses such as a laptop for video editors and music production. It manages all these tasks thanks to its main attraction the Core i7-8550U processor and numerous other internal enhancements from other previous generations.
In our list, we've featured a couple of high-end and budget laptops. The Dell XPS 13 is not among the budget. No, it's a sleek top-tier laptop, not built for playing games but one that crunches productivity tasks without breaking a sweat. It comes with an awesome slim and trim design and a case only comparable to the Apple MacBook series in attractiveness. I'm talking the lightweight carbon fiber design that makes it easy to carry around all day.
On opening the case, you are greeted by a 1920 x 1080 non-touch display. Although that was our test unit. You always have the option of a better-defined display with the 3200 x 1800 resolution touch screen. The display is InfinityEdge which helps Dell achieve a thin and smaller frame 13.3 inches. At 0.6 by 12 by 7.9 inches, the Dell XPS 13 is barely bigger than the 11.6 inches MacBook Air (0.7 by 11.8 by 7.6 inches).
Performance
The highlight of the performance section is none other than the processor and the memory. The Dell XPS 13 flaunts an 8th Gen Core i5-8550U processor and 8GB of memory. It's a shame that there is no dedicated graphics card, other than an Intel HD Graphics 620 card The lack of a GPU knock the stamina off of the XPS 13 and for that reason it's not a gaming machine. Even so, the combination of processor and memory gives the system a serious punch without necessarily requiring a lot of power consumption. That way the laptop has power but enables longer battery life.
Also, with 8GB memory, the system is capable of handling heavy software which is great for finance students.
Pros
Simple but elegant design
Lightweight
Remarkable performance
Great keyboard
High-end components
Above average sound
10800 display
Great battery life
Cons
Inconvenient webcam
No HDMI port
Specs
| | |
| --- | --- |
| Display | 13.3 FHD (1920 x 1080) Touch display |
| Processor | 8th Generation Intel Core i5-8250U Processor |
| Memory | 8GB 1866MHz |
| Storage | 128GB SSD |
| Graphics Card | Intel Graphics 620 |
| Measurements/ weight | 7.9 x 12 x 0.6 inches/ 2.7 pounds |
Verdict
To sum it all up, the Dell XPS 13 is a stunning machine, certainly among the best premium laptops in the market. The Dell XPS 13 (2019) comes with a spectacular boost in muscle performance and battery life which means if you get the newest model, you'll have more power for productivity. Otherwise, even with the 2018 model, you will still have a laptop with a great balance of performance, battery life and price. If you're looking for the best laptops for finance majors, you will be hard pressed finding a stronger price-per-part proposition laptop. It makes it to the top of our finance major laptop list.