Best Laptops for Computer Science Students
The laptop industry has undergone so many changes over the past decade and there's bound to be more confusion in the notebook aisle now more than ever. Unfortunately, while the changes are for the better, it might be confusing for most especially if you're looking for a laptop for a niche profession.
Today's laptops encompass everything from featherweight, business laptop, ultraportables that barely weigh anything (less than 2 pounds) and lap-crushing gaming laptops that weigh as much as 10 pounds. But we're not dealing with those today. In this article, we take a look at the unchartered waters that is the best laptops for Computer Science students.
With computer technology playing a vital and ever-growing role in respect to modern life, computer skills like computer science degrees are on high demand. Many different industries and multinational companies need computer science students to handle their IT. Companies such as financial organizations, management consultancy firms, software houses, communications companies, and data warehouses require computer science students. IT consultants, for instance, to advise clients on the planning, design, installation, and usage of information technology systems to meet the client's business objectives. As a result, computer students need the very best in technology to complete these development tasks, most importantly a laptop.
With that in mind, we've assembled the best laptops to handle computer science tasks such as development (such as web, games, systems, products, programs, and software) and run programs such as MATLAB, NetBeans, and Eclipse. Read on and find out which of these laptops suits you best.
Top Laptops For Computer Science Students in 2019
A lot has changed since the first generation MacBook days. There's a vast difference between the first MacBook and the modern ones today. Better yet, there's a world of difference between MacBooks and other brands of laptops. That's all because of the marvel of engineering that has gone into MacBooks, case in point the Apple MacBook Pro 2018 we recommend for computer science students.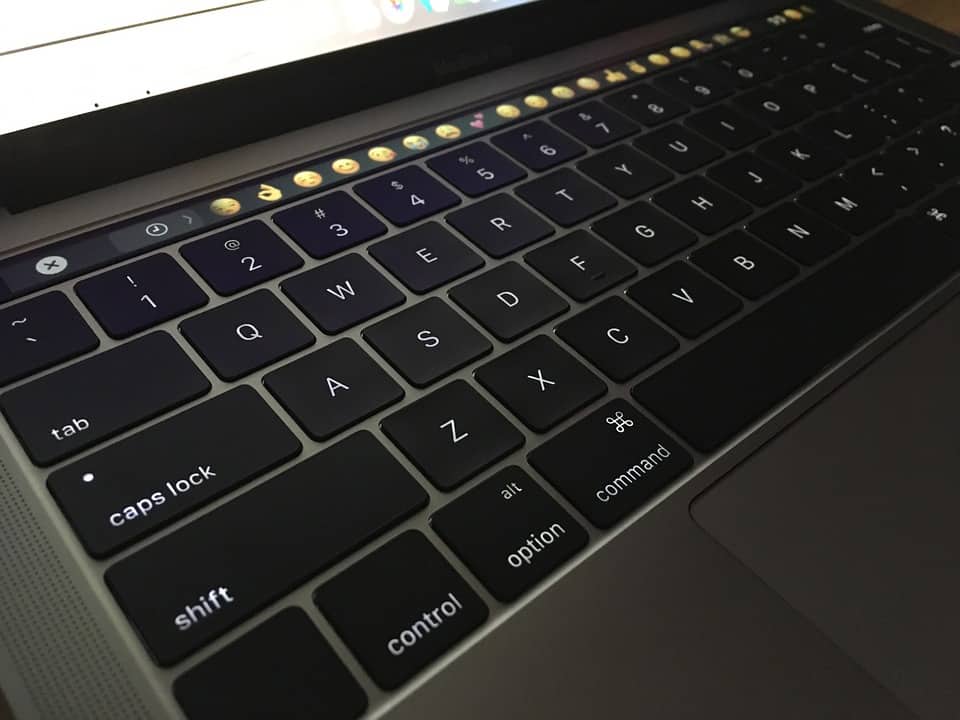 The MacBook Pro 2018 is heavily specced and packs enough horsepower to muscle through multitasking tasks, and day-to-day performance. I'm talking about content creation and running programs. Out of this whole list of laptops, it easily takes the lead as an aesthetically fit laptop with performance perks.
Speaking of design and aesthetics, you'll not find a better-crafted laptop in the industry. Built with an aluminum body, the MacBook Pro 2018 is a sleek, diminutive and lightweight laptop. It's nothing like the Dell XPS 13 but at 3 pounds, it does seem to keep mobility in mind and fits into small enclosures. If anything, I would go as far as saying the MacBook Pro is an ideal travel companion.
The display is notably better with vibrant colors, thanks to True Tone ( a new technology for displays). The display comes with Retina Display technology that's a pioneer in offering vivid colors and crystal clear images. With a 2560 x 1600 resolution screen, you get to enjoy the very best in viewing experience.
Display aside, what really separates the MacBook Pro from the rest of the lot is its specifications. It brags of premium components such as an 8th Generation Intel Core i5 processor, coupled with 8GB RAM and 512GB Solid-state drive. Thanks to the 8GB memory, the machine is capable of handling most everyday productivity tasks and some professional software like MATLAB.
In terms of connectivity, the ports are few and far between compared to the competition. That's all owing to the miniature design the MacBook Pro takes. It comes with a Thunderbolt 3 ports an no other ports. Other laptops offer more port system options which might not sit well with some buyers. I must admit that this is an issue of personal opinion and preference though. If you love a healthy port system, with the MacBook Pro you will have to get used to using adapters and dongles.
| | |
| --- | --- |
| Display size | 13.3 inches |
| Resolution | 2560 x 1600 pixels |
| Processor | 8th Gen Intel Core i5 |
| Memory | 8GB |
| Storage | 512GB SSD |
| Battery life | 14 hours and 35 minutes |
Pros
Impressive Design
Excellent touchpad
Plenty of SSD storage
Great keyboard for comfort
Hey Siri functionality
Great battery life
Cons
No option for a discrete graphics card
Using ports will require dongles
High starting price
Overall, the Apple MacBook Pro 2018 is a great everyday ultraportable for the self-employed frequent traveler but best of all for the college students looking for a Computer Science future. It should serve as a fine platform for light-to-moderate video and photo editing in between. It's Achilles' heel remains to be its price tag, but if you can afford to pay the whole amount, it will serve you well throughout campus.
The Acer Predator Helios 300 received accolades for its perfect balance of gaming performance and price point. But the same reasons that made it a sensation are the same that make it great as a laptop for computer science students. With an 8th-gen Core i7, GeForce GTX 1060, and 144Hz screen, Acer's Predator Helios 300 easily justifies its popularity. And it does so proudly in its black and edged out chassis.
Compared to the Apple MacBook Pro, the Predator Helios is neither heavily specced nor expensive. It's a decently configured laptop capable of gaming and handling graphics-intensive tasks. Of course, that means there aren't as many perks as on the MacBook Pro, but cutbacks and corners are expected for budget laptops.
Sitting at 10.5 x 15.3 x 1.1 inches and 5.51 pounds, the Predator Helios is decently sized. Its design has nothing amazing and so it hardly stands out. It, however, sticks to the gamer aesthetic which is metal chassis in a gun-metal finish with hints of red accents and tapered edges. It might not scream gamer but it might attract some attention when placed alongside other mainstream laptops. Carrying the Helios is also easy because it's lighter than it looks. It fits into a backpack and won't break your back on your daily commute to college.
How does the port section look like? Well, if you're anything like me, you'll appreciate the number of ports available. There are two USB 2.0 ports, a headphone jack, a USB 3.0 port, USB 3.1 port, a single HDMI port, and Ethernet port. You get an SD card reader as well, which comes in pretty handy if you're using this for your amateur photography.
Moving on, the display is one of the other highlights of the Acer Predator Helios. It packs a Full HD (1920 x 1080) resolution screen built on an In-Plane Switching (IPS) panel and 144Hz refresh rate. That means the viewing angles are great and color reproduction even better.
Keyboard and Touchpad
Apart from the display, the keyboard and touchpad also make this laptop stand out. What we loved is that although one might say it's a gaming laptop its keyboard isn't gaming. The keyboard is not only comfortable, but it comes with good enough bounce, sufficient travel, great responsiveness, and accuracy. The touchpad is also very responsive and as a result enough for productivity tasks.
| | |
| --- | --- |
| Display size | 15.6 Full HD, IPS w/ 144Hz refresh rate |
| Resolution | 1920 x 1080 pixels |
| Processor | Intel i7-8750H |
| Memory | 16GB DDR4 |
| Graphics Card | Nvidia GTX 1060 6GB |
| Storage | 256GB NVMe SSD |
| Battery life | 3 hours and 45 minutes |
Pros
Great performer/ Lots of power
Affordable price tag
144Hz refresh rate
Decent battery life
Cons
Loud fan
Gets too hot
Middling sound
All in all, it's hard to complain much about the Acer Predator Helios 300. Of course, we would have loved a bigger battery that lasts longer than 3 hours, but then that would make the laptop a lot heavier and bulkier. So, it works just fine the way it is and should be a student's prized possession. For the top-notch CPU, GPU and affordable price tag, the Predator Helios 300 receives our stamp of approval. It's perfectly capable of serving computer science students with aplomb.
The ASUS VivoBook S is without a doubt among the most portable, affordable and powerful 14-inch laptops in the market today. Despite the sleek and lightweight build, it fits an 8th Gen Corei7 processor that gives it the performance edge over other laptops in its class. It has muscle and is more than capable of both work and play, especially when you factor in the price.
At 12.8 x 8.9 x 0.7 inches and 3.2 pounds, it joins the ranks of the best-designed laptops in the market today. This means you can load it into your backpack, carry it on your back and forget it's even there. On opening the case, one is ushered to a 14 inch Full HD (1920 x 1080) resolution display. The screen is covered with an anti-glare coating which takes care of glare using the laptop under direct sunlight and brightly lit rooms.
Moving on, the port selection on this laptop is decent. It is capable of satisfying most budget student needs. included is an HDMI port, two USB 2.0 ports for slow peripheral connections, a USB 3.0 port (Type A), a USB 3.1 port (Type C), a full-size SD-Card reader and a headphone/ microphone combo jack. It also enjoys robust wireless connectivity via an integrated 802.11ac module, along with a reliable Bluetooth 4.2 connection. There is no Thunderbolt 3 port but its understandable at this price point. You really get what you pay for. For a higher-end port system, look for sub $1500 laptops or entry-level gaming laptops.
Performance
The performance is impressive and gets a lot of productivity work done. Nothing sounds its thunder like an 8th Gen Core i7 8550U, 8GB DDR4 memory and Nvidia GeForce MX150 graphics card. With these three components, those tasks that made your former computer quiver and look like an old hag will receive their deserved beating. The laptop can easily handle movie streaming, video rendering, video editing, moderate gaming, word processing and spreadsheets with aplomb. If you're looking to handle some programming assignments or heavy software, the Asus VivoBook S should take care of it. For this unit, you get a 256GB solid-state drive but you can always boost it with extra hard disk storage.
The operating system is installed on the SSD which means the laptop can load software and boot up in seconds.
Pros
Sleek attractive design
Impressive 1080p display
Reasonably priced
Cons
Average battery life
Lacks futuristic Thunderbolt 3
| | |
| --- | --- |
| Display size | 14-inch Full HD 178 wide angles |
| Resolution | 1920 x 1080 pixels |
| Processor | 8th Generation Intel Core i7-8550U |
| Memory | 8GB DDR4 |
| Graphics Card | Nvidia GTX MX150 2GB |
| Storage | 256GB SSD |
| Battery life | 6hours and 30minutes |
Verdict
The ASUS VivoBook S fits the bill as a midrange laptop for users looking to stay productive on the move. It packs all the right components in a sleek and lightweight body making it the perfect laptop for students on a budget. You get a great backlit keyboard, great performance and some gaming capacity thanks to a powerful 8th Gen Core i7 processor and graphics card. For the most part, the Asus VivoBook S410U is an ideal travel companion for students, professionals, and everyone in-between. It easily makes it to the top of our best laptops for computer science students list.
Related: Best Laptops for Microsoft Office
The Dell Inspiron range has historically been pitched at users who are more interested in substance over style. And that's what you get with the Dell Inspiron 15 5000. While this laptop is not exactly hideous, it doesn't have visually arresting appeal as other slimmer notebooks and ultrabooks in the high-end market. That's not to say you won't like its design, you will. But just not as much as you would a high-end notebook. From a budget user's perspective, it is a well-rounded machine with a comfortable and colorful soft-touch design and remarkable performance. For that alone, it fits the bill as a students laptop.
A strong performance combined with affordable price are the reasons the Dell Inspiron 15 5000 makes our best laptop for computer science students list. Among the upsides to this unit is a Full HD (1920 x 1080) screen, 8th Gen Intel Quad Core i5-8250U Processor, 8GB DDR4 memory, 1TB HDD, backlit keyboard, and a healthy port system.
Sitting at 14.96 x 10.15 x 0.89 inches and 2.65 pounds, the Dell Inspiron 15 is averagely sized. For the most part, it's a laptop that shouldn't be much trouble carrying around your commute to campus or work. The display is good at Full HD but the viewing angles aren't great and the colors are a bit washed out. However, that's to be expected for the price and again this is a laptop for budget users. Also, the display may be a little lackluster but compared to the competition in this price range, it's slightly less lackluster.
Keyboard
Moving on, the keyboard has a number pad which is boon for productivity. Also, it is a bit cramped up but overall good for the price. Individual keys give the satisfying clicky sound while typing which is great. The trackpad is also sensitive, accurate and well tuned. But it occasionally misses a few swipes, therefore, hook a mouse up when you need to spuriously click things. As for the ports, the Inspiron 15 5000 comes with a pretty standard selection. There is a power port, SD card, a single USB, Ethernet, and HDMI slots on the left, plus two more USB ports and a headphone jack on the right.
Performance
Performance on the Inspiron 15 5000 is remarkable thanks to the 8th Gen Intel Core i5-8250U processor which is a leg up competition that rely on older chips. The machine runs through various tasks without breaking a sweat. The chip it packs is a great choice for those who want fast laptop computing without sacrificing portability or battery life. Thanks to it, the Inspiron can handle day-to-day tasks such as web browsing, work in Microsoft Office applications, and multimedia playback. Combined with the 8GB memory and 1TB mechanical hard drive, it makes a good case as a laptop for computer science students. Additionally, the system can handle 4K videos smoothly
Pros
Simple modest design
Plenty of ports
Full HD display
Great performance
Good battery life
Comfy soft-touch deck
Affordable price
Cons
| | |
| --- | --- |
| Display size | 15.6 inch |
| Resolution | 1920 x 1080 pixels |
| Processor | 8th Generation Intel Core i5-8250U processor |
| Memory | 8GB DDR4 |
| Graphics Card | Intel Integrated 620 Graphics |
| Storage | 1TB HDD |
| Battery life | hours and minutes |
Verdict
There's more to love about the Dell Inspiron 15 5000 than there is to dislike. It is an all-rounder laptop with the muscle to run through daily tasks such as web browsing, light work, and casual gaming. Its aesthetics are low toned but it makes up for that in performance. The Dell Inspiron 15 5000 is a great laptop for budget users on the lookout for a productivity machine. Better yet, it is a great laptop for computer science students because of its performance perks and affordable price.