If you are looking for the best laptop for work and school, this is the right guide for you. We have done our research and identified three laptops that will be the best fit for both workers and students.
While preparing this guide we factored in features that are crucial for boosting productivity at the workplace while also making life in college easier. 
Our Top Laptops for Work and School
After comparing features and prices, reading customer reviews and getting professional opinions, we have identified the following laptops to be the best picks for both your school and workplace. 
Brand
Best Overall
Dell XPS 13 7390
Best for the Money
ASUS VivoBook S15 S530
Best Cheap Pick
Lenovo Ideapad 310
Product
Best Overall
Product
Best for the Money
Product
Best Cheap Pick
Product
Best Overall Laptop for Work and School: Dell XPS 13 7390
It's not easy to come across a 13-inch laptop packing a powerful processor as the Dell XPS 13 7390 does. The Intel Core i7 CPU is a great option for workers and students who need fast performance. 
The display is sharp with alluring color accuracy. You can choose between a full HD or 4K resolution. The latter option is overkill for students and workers since it is pricier and hard on the battery. You will do just okay with an FHD display unless you do some resolution angry tasks. 
The IPS panel can get remarkably bright which means the Dell XPS 13 7390 is comfortable to use outside. This makes it a good fit for students and workers who like working away from the class or office. 
The 19:9 screen ratio hits the sweet spot for productivity and media consumption. The edge to edge keyboard looks very elegant. While the keys have short travel, they are nicely spaced with satisfying clicky response and comfortable kickback.
Moreover, the backlit keyboard has 3 levels of brightness to satisfy your needs.
Finally, the battery can last a whole school or workday without recharging. There's a battery level indicator right below the standard sized trackpad which you can use to monitor power consumption even without opening the laptop.
What We Like
3 levels of backlight keyboard for speedy and fast typing. 
Lightweight and carry to carry around while in the workplace or school. 
Impressive battery life for students and workers who don't like carrying their chargers. 
Multiple ports for easy connectivity and sharing files between the laptop and other devices. 
The screen can get very bright, which is good for a bright ambiance.
What We Don't Like
Shallow key travel that needs some getting used to
A bit pricey for students and workers on a budget. 
Sale
Dell XPS 13 7390 13.3 inch 4K UHD InfinityEdge...
Infinityedge display, enabling a 13. 3" Screen In an 11-inch form Factor with an 80. 7%...
Vibrant colors: by maximizing the color spectrum with 100% sRGB color and a 1500: 1 contrast ratio,...
Beautiful from every angle: The anti-reflective screen combined with superior 400-nit brightness...
Best Laptop for Work and School for the Money: ASUS VivoBook S15 S530
The Asus VivoBook S15 S530 is thin, stylish and offers the best value for money from our choices. It's hard not to appreciate its 15.6" full HD screen (1080p) surrounded by ultra-slim bezels.
An i5 core processor in combination with 8 GB of RAM and 256 GB SSD storage power this wonderful model.  
This Asus model has an aluminum chassis, a backlit keyboard and fingerprint reader. The gray metal finish comes in four vibrant accents to fit different tastes.
What is more, the three-sided narrow edge display results in 86% screen to body ratio, providing an immersive display with wide viewing angles.
When you open the laptop, hinges tilt the keyboard up 3.5 degrees to give you a comfortable typing position. This position also helps to boost the cooling process and audio quality from the down-firing speakers. 
This laptop also features multiple connectivity options. On the right-hand side, there's an audio jack, USB-C port, HDMI port. On the left, you get a micro SD card reader and USB 3.1 port. 
However, most workers and students  would prefer a standard-sized SD card reader since many devices like cameras use that. A workaround for this small compromise would be to get an adapter.
The Vivobook s15 uses Asus's Wi-Fi Master technology, to offer you a faster and reliable connection over a considerable distance. It can receive a reliable connection even when 225 meters away from the router – that's 65 meters further than what standard laptops use.
What We Like
Bright, colorful Full HD display for a fulfilling viewing experience. 
Weighs only 3.97 pounds which makes it easy to carry around school and the workplace. 
Fast overall performance to enable it to run work or school programs without lagging behind. 
The sleek chassis makes it a good option for students and workers who value aesthetics. 
What We Don't Like
The keyboard is not very responsive 
The Small micro-SD card slot might a turn off for some workers and students
Best Cheap Laptop for Work and School: Lenovo Ideapad 310
We recommended the Lenovo Ideapad 310 for students and workers on a tight budget. This laptop offers exceptional performance and a decent display. It mostly consists of plastic and comes in a matte black finish. 
The Ideapad 310 is relatively light for a 15-inch budget laptop that has many connectivity options and port selections. These include 3 USB ports, HDMI and VGA to connect traditional monitors.
The responsive keyboard is comfortable to type on and has a clicky feel to it. The keyboard is, however, not backlit which might be a turn off for workers and students who use the laptop at night. 
As is usually the case with most Lenovo laptops, the Ideapad 310 comes with a mouse joystick bang in the middle of the keyboard. The sizable trackpad is quite glossy though, which can lead to friction and inaccurate movement.
While the standard resolution display looks decent enough when looking at it head-on, from an angle, the colors feel a bit washed out. Its AMD graphics provide decent performance when light editing or playing low to mid-range games. 
In terms of storage, the laptop comes with a 1TB  hard drive, which is good enough for most people's storage needs. 
The laptop doesn't get warm after high loads and runs pretty quiet throughout. The battery life is quite respectable if using it normally, but significantly reduces when gaming. The speakers provide loud and clear audio. 
All things considered, this is still a high performance and a good enough laptop for the price you pay.
What We Like
Has a VGA port for old school monitors
Decent number of ports for sharing files between the laptop and other devices or doing presentations
Comfortable keyboard for quickly taking notes while in the lecture room or typing documents in the workplace
Long-lasting battery makes it a good fit for students and workers and students who don't have time to recharge regularly
What We Don't Like
The keyboard is not backlit 
Narrow viewing angles
Lenovo 2017 IdeaPad 310 Laptop 15.6" Touchscreen,...
Latest 7th Generation Intel Core i7-7500U Dual-Core Processor (2.7GHz Speed, turbo boost up to 3.5...
15.6-Inch Diagonal LED-LCD HD (1366x768) Backlit Touchscreen Display, 12 GB (Expandable to 16GB)...
1x1 802.11AC WLAN Wi-Fi, Bluetooth 4.1, Fast Gigabit 100/1000M Ethernet LAN, Dolby Audio Processing,...
What to Consider in A Good Laptop for School and Work.  
Finding a laptop that is a good fit for both the workplace and school is not easy. However, after considering many factors, we've identified the features as the most important for both workers and students.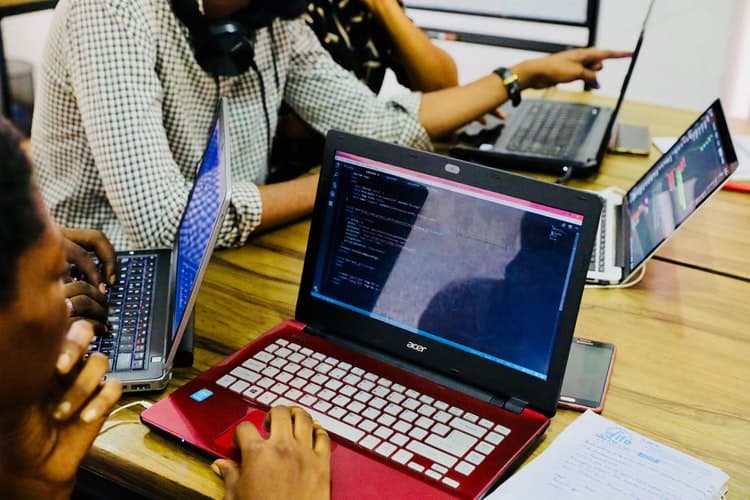 These features are what you should consider when buying a laptop for school and work:
Usage
Ask yourself: what do you need the laptop for? This question is a bit straightforward for students since most of them do closely related work. However, if you are a worker, you'll need to factor in the kind of work you do before buying a laptop. 
For instance, if you are a graphic designer, you'll need better graphics and if you are a freelance writer, you'll be better off with a comfortable keyboard and fast browsing speed.
So, even before choosing a budget, you need to be clear on what you want to do with your laptop. However, you should let this confine you too much. If you're a student and a worker at the same time, you'll need a laptop that seamlessly takes care of your needs both at school and at the workplace.
Price
Price is an important consideration for students and workers on a budget.
While shopping around, you'll be tempted to overspend and bring home a laptop that you don't really need. 
This takes us back to usage.
When you're clear on what you want to use your laptop for, look for those that offer the best balance between price and usability.
Come up with a realistic budget and stick to it.
The prices will vary based on your intended use so sometimes you might have to stretch your budget a bit.
In this case, make sure it's not too far from what you can afford.
Durability
Durability is exceedingly important for both workers and students. Whether you're in school or at the workplace, you will be in a lot of situations that make your laptop vulnerable to damage.
In school, you will be moving around with your laptop a lot when going from one lecture to another or going to the library for research. This means the laptop can experience a lot of friction that could damage it. The same goes for busy workplaces or workers who commute daily.
While most work laptops can withstand some level of abuse, choosing a model with sturdy, durable materials will give you the best value for your money.
Performance
You will be in college for about 4 years and even longer in the workplace. For this reason, it's important to think ahead when buying a laptop. As far as performance goes, you need a laptop that you can use during the entire school period and even after you start working.
This means that you should buy a laptop featuring a processor, RAM and hard drive that won't become useless in the future. For example, if you are going with an Intel processor, it should not be older than a 7th gen.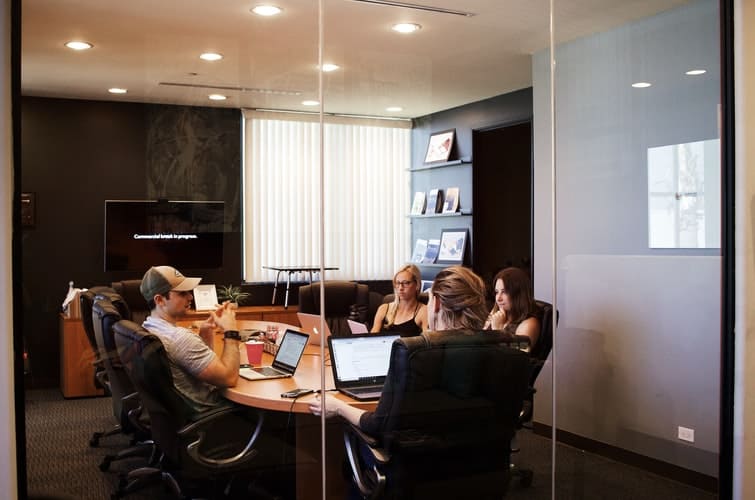 For both school and work, we recommend an Intel Core i5 or Core i7 processor and not less than 8GB RAM. For storage, you should never go below 128GB SSD or 500GB HDD.
Battery life
Whether it is work or school, you're probably not looking forward to a laptop that drains its battery within 2 hours. If you are in school, you won't have enough time to charge your laptop between lectures. It is, therefore, important that you look for a laptop that can last for a whole school day.
The same for work. If you mostly work away from a power source, you don't want a laptop that goes off in the middle of an important task. In general, you should look for a laptop with at least 8 hours of battery life. This should take you through a school or workday without having to recharge.
 Conclusion 
Finding a laptop that can serve two purposes at the same time is not as straightforward as it sounds. We hope the above recommendations will help you buy a laptop that is the best fit for both school and the workplace.